Greg's Story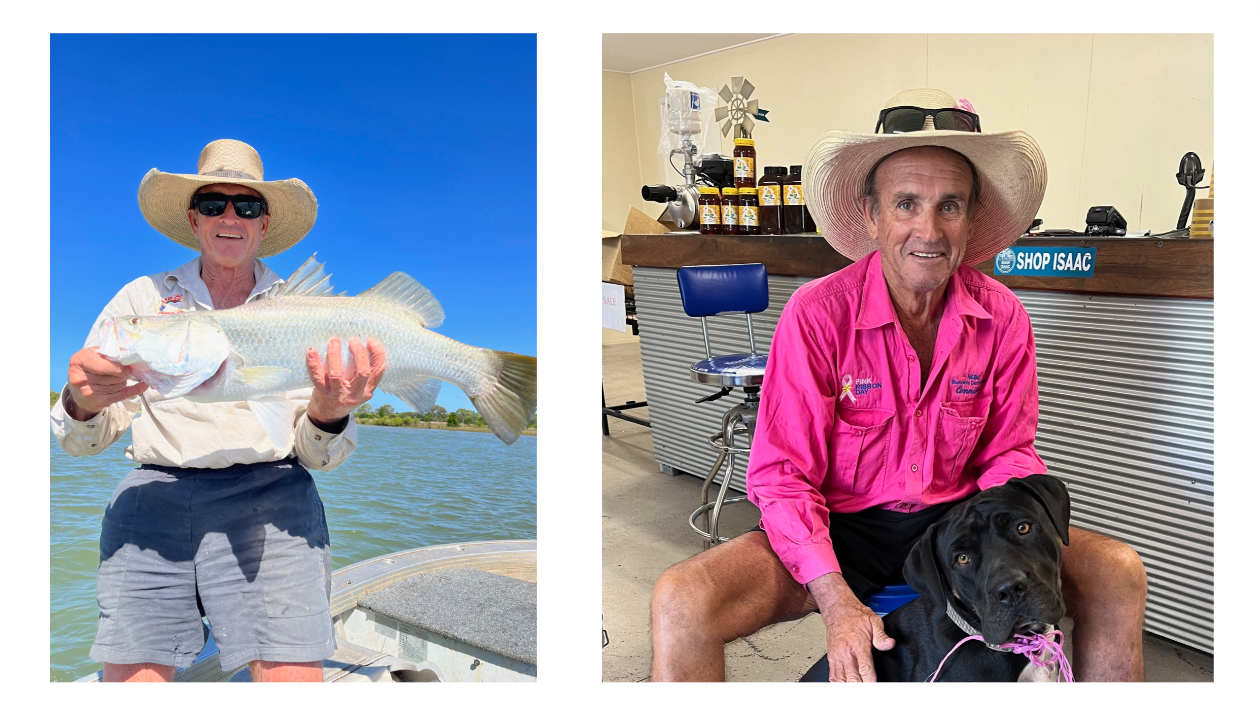 Greg's Story
Outback Queensland has always felt like home to Greg. At 66 years old, the cattle farmer has spent most of his life working the land, both in a farming capacity and in coal mining.
"I was brought up on a cattle property near Hughenden, about halfway between Townsville and Mount Isa. Lived in the area until I was about 30, managing properties owned by my Dad before I moved to Nebo with my partner Debbie. Nebo is about 100km inland from Mackay, and we still live in the town today. Originally, we came here to get jobs working in the coal mines, but now we own an 800-acre place just outside Nebo where I breed Charolais and Charbray cattle."
Speaking to Greg, you can tell he is the kind of guy everyone would want to be friends with. He's got a self-described "wicked sense of humour", a sunny personality, and enough confidence to boot. Together, the combination has kept him out of trouble for many years.
That is until he presented to his GP in Mackay with jaundice on November 15th 2019. Just one day later he was on a plane to Brisbane to undergo further testing at The Wesley Hospital.
"They found a tumour on the head of the pancreas. About 4 centimetres. I couldn't believe it; I had pancreatic cancer. My GP recommended I fly down to Brisbane to see a highly regarded surgeon to work out the next steps in treating my cancer, so I flew down the next day. I was able to see the surgeon at 8 am, and by 9.30 am I was booked in to do 6 months of chemo to help shrink the tumour before I would undergo a Whipple Procedure."
"I remember it was a Thursday morning, and I noticed that no one was in the waiting room. I asked the secretary where everyone was, and she told me it was the surgeon's day off, and he had come into the hospital specially to see me! He is just an amazing, wonderful bloke. I truly credit him and others with saving my life."
6 days later Greg began his initial treatment of Chemotherapy at the Icon Centre attached to The Wesley.
"I used to fly up and back every fortnight for the treatments, splitting my time between Debbie and our farm, and the hospital. Then, covid hit so my surgeon called me to say he was bringing forward the Whipple Procedure because he was worried all surgery would be stopped. So about 6 weeks later I headed back down to The Wesley and underwent the surgery on the 30th of April 2020."
However, Greg's treatment and ill health didn't stop there. He was set up on a 6-month course of further chemotherapy at the Icon Centre attached to The Wesley before his care was transferred to a centre in Mackay, where he continued to receive fortnightly chemotherapy.
"I only made it through four months of the chemo before I developed a staph infection, so I had to stop the chemo of course. I was then in hospital for three weeks on strong antibiotics, before I spent another 3 weeks within 40km of the hospital. I was fortunate that they got on top of the staph infection quickly, but it still knocked me around a fair bit. Prior to the infection, I was sitting at about 90 kilos, and I walked out of the hospital at 63 kilos. It nearly killed me. But I was fortunate to not have to go back on the chemo post-infection because I'd come up with a clear scan and blood test. I've been cancer free ever since."
As of May 1st, 2023, Greg has been cancer free for 3 years and is looking forward to many more years of good health which he can spend on his farm, travelling Australia and fishing with Debbie by his side.
"I've started doing all the things I never got the time to do in the past. I've been gulf fishing, but I'm yet to catch that elusive metre-long Barramundi! The other thing I'm excited to do is to go up to the Kimberleys to see a place called 'Horizontal Falls'. I want to go see a bit more of our backyard."
That being said, Greg is incredibly aware of how lucky he is to still be around and in good health today. He knows many diagnosed with the disease are not as fortunate as he has been.
"Has it changed my outlook on life? You bet. I've been given a second chance that not many people get. I think the fact that I've worked on a farm my whole life was a massive help in my recovery because my physical activity and health are much better than your average 66-year-old. I absolutely recognise that. But I honestly think my positive attitude really helped save my life."
"I count myself as one of the lucky ones. Everyone said to me 'You have to stay positive', and I totally connected with that. I understand that it's easy to chuck in the towel and give up, but if you can maintain a positive attitude, it makes a massive difference to the people around you. It may not lengthen your life, but it will make your time left on this earth a lot more enjoyable. I remember my oncologist saying to me that the road was going to be rough, and even with the best treatment I would be lucky to live beyond 12 months. I looked him in the eye and said 'Look, no offence mate, but you better get used to my face. I'm not going anywhere'."
"But I know not everyone is as lucky as I am, and that's why I make a big effort to raise as much awareness as I can, as well as thank the people that helped me get back to where I am today. Every time I get a clear scan, I go back down to the Oncology ward where I was receiving chemo and say good day to the secretary and the nurses. They love it because they really do form a bond with you, especially since you are in there so often. I feel very fortunate. How many people can go back and say 'How are you going? I'm still going, still kicking.' I just want to do my part to support those going through this disease. To be able to be part of lifting the survival rate would be fantastic."
Until then, Greg will keep celebrating every day he has the pleasure of waking up in this beautiful country alongside his friends and family.
"When I was sick it was a really difficult time for Deb. She was trying to care for me as well as run our cattle farm. We were so lucky to have a lot of people in town who wanted to help out. It was tremendous. Last year when I turned 65, we hosted a little birthday party in the local pub in town and asked everyone who had helped me to come down and celebrate my being 2 years cancer free. We shouted tea, food, and a few drinks, and it was our way of saying thank you to them for all that they have done for us."
"It's been great to have such amazing people like that around me for sure. Just truly amazing."