Megan's Story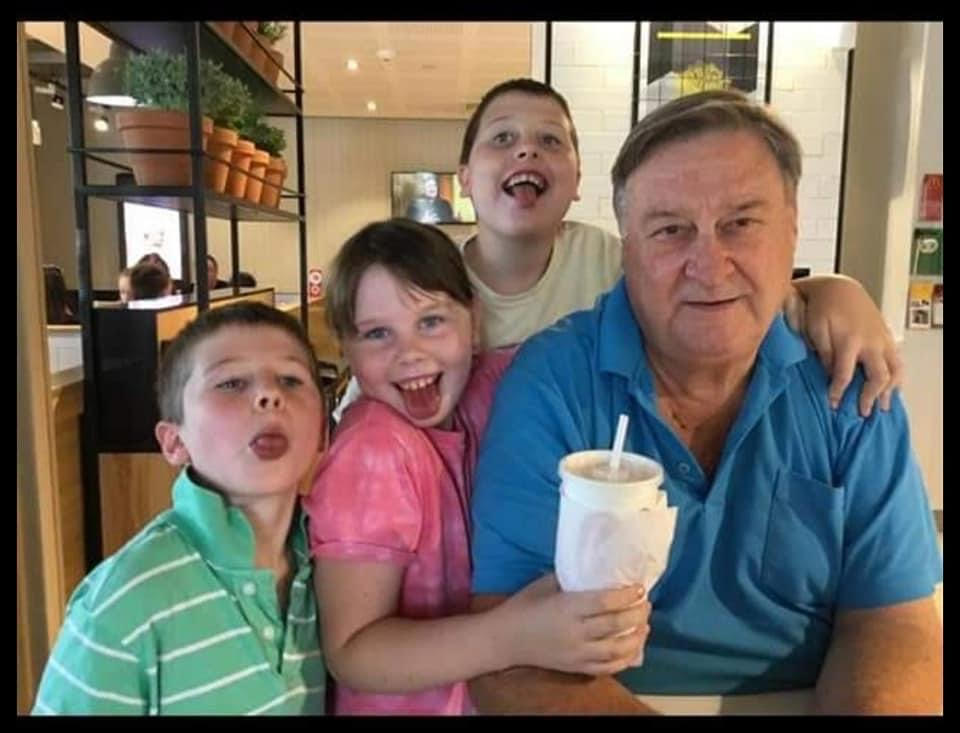 Megan's Story
"My Dad was known to most only as Ted had been married to Carol for almost 48 years, living in the same home for most of that time and being a Dad to two now adult children, being a beloved Pop to his four grandchildren and life seemed good. Dad was a passionate volunteer, who had worked his way from private enterprise in training and development, crossing over into the public service and combining his love of volunteering in the NSW RFS with his training skills – in numerous paid staff positions. It was during these times, working on call 24/7 days, more days of broken sleep than a good night's sleep. These incidents would usually lay Dad up in bed for a day or two, and it seemed to pass. There is a fine line in life between being stoic and being on your GP's doorstep most weeks, and Mum and Dad dismissed these symptoms as just ageing and stress.
Dad loved spending time with the kids and grandkids and was in regular touch with his mates. He was managing his diabetes with an App on his phone, because his sugar levels had remained stubbornly high over the years.
Spending time with Dad, I began to notice more closely he took on a grey skin tone appearance, but again, did not push him to see his GP. With COVID lockdown in NSW, Dad seemed to develop stomach pains again and this time he went to the GP who sent him for an abdominal scan and blood tests. The GP rang on Mother's Day to let Dad know there were abnormal test results and to come in for an appointment that week. I remember Dad saying repeatedly how surprised he was that the GP called him on a Sunday. That's when he received his diagnosis of pancreatic cancer. 
The scan showed a non-operable mass in his pancreas and the spreading of cancer to his liver. I remember my Mum telling me how the GP's surgery called and asked Dad to come in and bring my Mum who was stunned at the news. In hindsight, I wonder if he had pushed to investigate the stomach pains in more depth, we could have caught his pancreatic cancer at an earlier stage? I can also appreciate sometimes we can take a "soldier on" approach to our own health.
I recall that first consultation, Dad appeared afterwards and said in typical fashion of coping with things in life "well, it's not the end of the world?" to which I could only reply "yeah, but it's the end of our world." I also remember discussing with dad "while you can't change the diagnosis, you can change how you go about living the journey". Our family embraced this philosophy and made the most of time with him, this involved weekly visits from his brothers, our immediate family – my brother, sister-in-law, and their four children taking him to the Zoo, family and friends celebrating Christmas in July. We indulged Dad by telling him he could have anything he wanted. He told Mum and I he "wanted a pet dingo". I had to rephrase that idea to – he could "have anything he wanted as long as it was attainable and legal".  We weren't able to do a Zoo experience with the Dingoes due to COVID rules at the Zoo, but he enjoyed a day out in the sunshine, and we made memories as a family.
Mum and I received weekly calls from family to help check in, not only on how Dad was going but how we were coping – these proved invaluable then and now. These calls kept me focussed on the immediate concern – Dad's quality of life and Mum.
 I discussed with them my wish to ask for anything family, friends and colleagues would consider donating to fund pancreatic cancer research. Luckily for me – Dad and Mum agreed with my idea, I like to think it is the social justice bone in my body – I may not be able to fix it for my family but if I can help fund more research into treatments for pancreatic cancer – then that's a positive outcome.  It also brought me comfort, it helped dissipate the helplessness I felt at the time.
Ted's story part 3:
From the story of my Dad's pancreatic cancer journey, I hope I can inspire others to consider having conversations with their loved ones about what quality of life means to them and that understanding signs and symptoms of the disease, being able to detect pancreatic cancer earlier, is so important.
At the time of Dad's death funding grants for all scientific research made the news for the low rate of funding. As part of organising Dad's Celebration of Life in August 2020 I took to social media – it was easier – one video could give clarity to what our families heartfelt wish. We created an "In Memory" Donation page through PanKind to enable people to donate directly to honour Dad.
To say I was blown away by the response as a flood of donations came in – is truly an understatement! I used to joke with my Dad – he always knew someone wherever we went – I was asking those people to think kindly and dig for a donation. It's heartening and gives me comfort to "rattle the tin" to bring attention to the need lift the rate of surviving pancreatic cancer. There is a bone-deep sense of need to share my family's story, though our ending is a sad one for Ted's journey – in reflection he got the end he wanted on his own terms, surrounded by family (Grandchildren looking in from outside the window due to Covid19 protocols) and listening to his favourite music – The Beatles classics and some modern tunes.
I feel that talking about pancreatic cancer, its survival rate, the importance of funding research to ensure quality of treatment and quality of life outcomes is paramount. Equally important is asking for help – not just for the patient going through the pancreatic cancer journey, but their family and loved ones. My Dad showed us that being vulnerable in battling his stage 4 pancreatic cancer diagnosis demonstrated his courage & bravery and serves as a lesson that we cannot always control the outcomes in life – but how we choose to live our life is the greatest power we have"