Marjorie's Story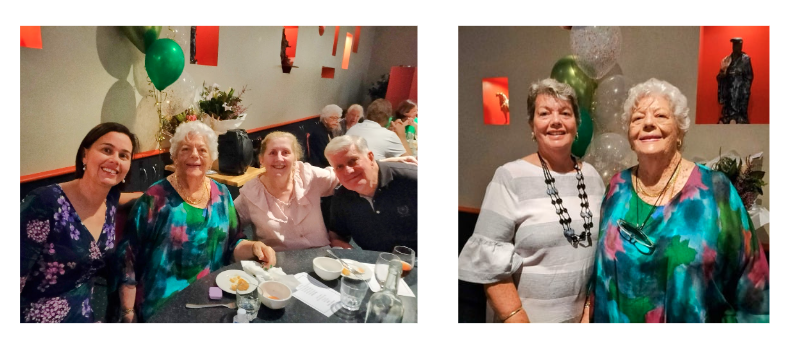 Marjorie's Story
As the second eldest of six children, life for Marjorie Lawrence has never been easy. Growing up in a small village in New South Wales that only had one teacher in the local school, and where most money was made through trapping rabbits, it's fair to say that the odds have been stacked against her from the beginning.
"Coming from a poor family, my parents couldn't afford to send us all to school. I was lucky that my Aunt, who lived in the neighbouring village, allowed me to live with her so I could go to school, but I still had to leave at the age of 15, despite being the Dux of my year." Said Marjorie.
If there's one thing that anyone should know about Marjorie, it's that she loves to learn. Despite leaving school before she completed her 'Leaving Certificate', she spent time working as a Governess, Nurse, and at the Telephone Exchange before Gough Whitlam removed the fees from university courses.
"I jumped at the opportunity to enrol as an external student. I had always been particularly good at maths, I mostly got 100% and even topped the state in a maths exam, so I chose to study a Bachelor of Business with a Major in Accounting. It was truly the greatest experience of my life, and it allowed me to achieve so much more than I ever thought would be possible. I took up a job teaching in TAFE as the Head of Business, and I was the only person who had a degree at the college. I loved teaching so much that I decided to complete my education degree, before my husband and I retired to a property on the North Coast of New South Wales. We then spent 12 years travelling and exploring together until he was diagnosed with a terminal illness."
The diagnosis prompted Marj and her husband to move to Townsville, where one of their daughters lived, and they purchased a house in a retirement village.
"It's a lifestyle village, and it's just the greatest place to live. I've met so many wonderful friends here. Sadly, my husband died only 6 months into our move here, so I continued travelling because I loved history, and needed something to keep me occupied. I've now visited over 50 countries, but my travelling had to be cut short before I could reach any more destinations as I had begun to get quite unwell."
She didn't know it at the time, but Marjorie's life was about to change significantly.
"I was diagnosed with Adenocarcinoma Pancreas, stage T2N1. It wasn't a good diagnosis. It was only picked up when I had a bit of jaundice, and the Gastroenterologist operated on me to put a stent in to open up the bile duct that was blocked. Then they made the discovery and said they could give me a bit more time if I had the operation. But the Gastroenterologist came to me and said she didn't think I should go through with the operation, that she didn't think I would make it through.
I kept thinking of my brother who died from pancreatic cancer that wasn't treated, so I knew straight away that I wanted to give myself the best chance to beat it, and if that meant doing the surgery, I would. I thank my incredible surgeon every day that I'm still here."
On August 5th of this year, Marjorie hit a very special milestone. She is officially 10 years cancer-free! She gathered her friends, family, and medical team at the local Chinese restaurant for a banquet to celebrate her incredible achievement just recently, where friends spoke highly of a woman dedicated to helping others.
"I think what helped me and kept me going was having my friends. I think it's so important to have friends who support you. That, and keeping a good mindset, and exercising regularly. Even today, when my body is not as agile as it used to be, I continue to go to exercise classes. I do Yoga, Tai Chi, and play Mahjong, to keep my mind and body active. I used to dance four times a week, but I can't do that anymore, I don't have the balance!"
It's clear speaking to Marjorie that despite everything she has been through, she's remained positive, a person beloved by her community for her sunny disposition and outlook on life.
"I think I'm one of the happiest people in this village. I've got a lot of friends, and it's really lovely. I have had an amazing life, a very happy life. I mean, there's been ups and downs, it hasn't been a bed of roses, but I've learned to overcome those hard times."