Lucy-Anne's Story: A Story of Hope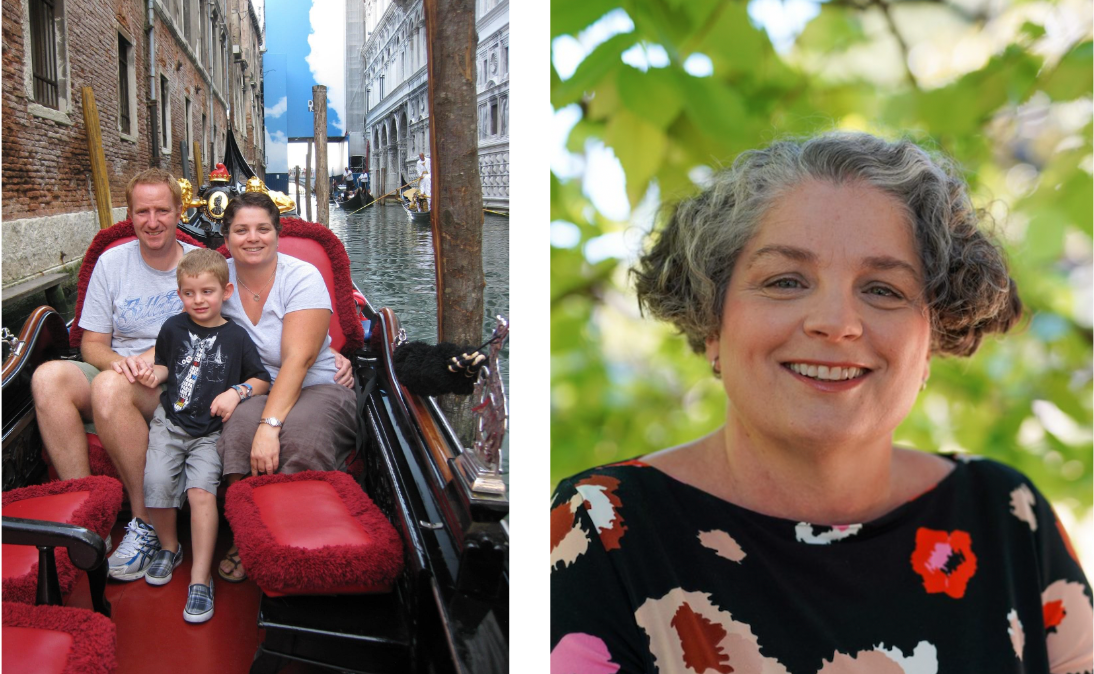 Lucy-Anne's Story
If you ask Lucy-Anne what she likes to do in her spare time, she will tell you that she never truly has free time. That might be because she is a self-employed lawyer, running a very small business of only seven people.
"I generally practice in the criminal law area, and victims of crime. But I do a lot of pro bono work and I volunteer with a bunch of charitable organisations. But when I have free time, I never really do, as evidenced by the fact that you've been chasing me for a week!"
She's not wrong. Each time PanKind have tried to get in touch with her she is either running into meetings or showing people who's the boss in court. But finally, our schedules have lined up in a rare piece of free-time for Lucy-Anne.
"When I do have free time I enjoy gardening, or I binge watch outrageous series on Netflix or Foxtel!"
It may seem like Lucy-Anne has everything under control- a fantastic job which she loves, a thriving business, and three boys that drive her crazy. But 15 years ago, her life changed in a way she never saw coming- she was diagnosed with pancreatic cancer.
"I was diagnosed in 2007 at the age of 40 when my youngest son was only six months old. I didn't meet any of the pre-existing criteria- I don't drink red wine, I'm not a big red meat eater, I've never smoked, I wasn't male, I wasn't over 60. I didn't meet any of the known risk factors. They weren't even looking for pancreatic cancer, it was a very incidental find. I had been having some gall bladder pain, so they were actually looking for a gallstone- I did fit all the criteria for that. But it was when they were doing the ultrasound, they were asking me all these questions since I had my six-month-old with me in the pram. They were saying "how's your husband, what are your in-laws like, what are they like with the baby?". And I thought it was really weird questioning… I ended up thinking that she was actually just genuinely being nice and interested in my baby."
For Lucy-Anne, it was this CT scan that picked up very, very early pancreatic cancer.
"When I was diagnosed, I was told to kind of go home and get my affairs in order, quote unquote. With a six-month-old baby and two older boys at the time. So, I chose to immediately have surgery- the Whipple Procedure. A month later I was diagnosed with type one diabetes. I then had a period of chemotherapy, followed by radiation, and then exactly a year to the day of diagnosis I had a further bout of surgery since I still had some symptoms and they wanted to go back in and take another look in case they didn't get everything the first time. Luckily, everything was actually ok. So, I will always be grateful to my surgeon, and my GP for picking it up so early. But I will always say gallstones saved my life, because without them I would have never known."
After her diagnosis, Lucy-Anne found out her grandmother had passed away from pancreatic cancer- so she unfortunately was a hereditary case.
"I didn't realise that's what had killed her. She was 62. I didn't realise that's what it was. Of course I knew she'd passed away, but it wasn't until after I was diagnosed that the family went "Oh, that's what she died of"."
Today, Lucy-Anne is cancer free. In fact, she no longer has yearly reviews, the last of which she had in 2013. As of June this year, she officially hit 15 years since her diagnosis, a massive feat given the statistics.
"I actually had a gastroscopy two weeks ago, just out of the blue! It was actually a PanKind post I saw on Facebook that made me think 'Oh, I must go and do this'. So, I just had a review and the gastroscopy two weeks ago and I'm fine."
More than anything, Lucy-Anne is just grateful for her second chance, the fact that she can be there for her sons as they grow up.
"I am just eternally grateful for my amazing surgeon and the care that was extended to me. Just forever, forever grateful. I mean when I was diagnosed my son was 6 months old, and he is going to be 16 at the end of October. He's getting his learners. I would never have started my own business, there are just so many things that I am grateful for. You know, I've had my near misses and I think I've well and truly emptied the well of good luck, but 15 years on and I'm still kicking it. I guess I believe that for whatever reason I am still here, you know whether that's to torment my teenage son, or give back to the community. When I met my husband, he had the most beautiful smile so in the last 30 years I've tried my best to wipe that smile off his face, but he has been a tremendous support as has been my family.
I think that's what kept me going when things were tough, knowing my family was right beside me, as well as the community of support that came from the doctors and the hospitals across Australia. I will always be eternally grateful that I live in Australia and have access to some of the world's best doctors. But I also tried not to dwell on the 'what ifs', because the world doesn't concern itself with those questions, it concerns itself with facts. So, I left all the facts to the surgeons and for me, there was no point worry about what could happen. I just didn't want to waste those precious moments with my husband and my kids."
So, what advice would she give to those currently undergoing this journey?
"You know, I would tell people to listen to your body, listen to your doctors, and just give it a red-hot go, because there is no alternative. It's not a fight, because a fight would imply that you have an equal footing, and you don't- it's not a fair fight. It's a process, so you go through the process, and you turn up when you are told to. Whether that's surgery, or chemo, or radiation. It's all about being aware of those tiny changes, and then submitting yourself to the process so you can hopefully receive a good outcome. I remember going to my doctor and saying, 'I've lost all this weight', and his response was 'Isn't breastfeeding great?'. I had bowel changes as well and the doctor asked me what we had for dinner the night before, and I said we ate pizza, and he said to me 'Don't eat pizza'. Ultimately those little changes didn't make a difference to me, to my outcome, but for someone else it really could."
"Moving forward, I have hopes that there could be some kind of test- I mean for hereditary individuals, maybe they are able to isolate a gene or something similar? But for other people, like those that are in that segment that are at higher risk, you know, men, smokers, red meat eaters et cetera, I want them to have some hope, and hope for longevity in their treatment. I would hope that when I talk to people about pancreatic cancer their response isn't my uncle had pancreatic cancer- he was diagnosed in June and dead by September. Because right now that's all I hear. So really, I just want there to be early detection, kick ass treatments and longevity in that treatment. You know, in terms of survival rates there is no data beyond 10 years… what does that tell you?"
"For me, I'm just so grateful that I have been here to watch my sons grow up, and that I was able to make so many memories for our family."