Patient & Carer Booklet
We have created this booklet to help you, your family, friends and carers understand how pancreatic cancer is diagnosed and treated.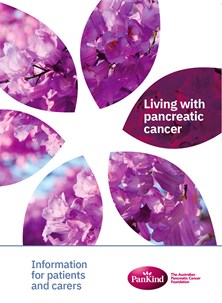 The booklet contains information about the diagnosis and treatment of pancreatic cancer, as well as how to live with having cancer. Also included is information about communicating with your medical team, who to turn to for support and how to best look after your physical, emotional and spiritual wellbeing. We guide you and those caring for you to support services that you may find helpful and practical information about dealing with work, financial matters and looking ahead (e.g. advance care planning, wills and superannuation).
We believe each person with pancreatic cancer should feel their personal needs, wishes and goals are understood and supported and our hope is that this booklet helps you feel better informed to face your daily challenges and live better with pancreatic cancer.
Download a digital copy
Please fill in the form below to download a digital version of the Patient & Carer Booklet.
Medical and health care sector organisations
If you are a medical professional or representing an organisation in the health care sector and would like to order hardcopy booklets to distribute to your patients and carers, please fill out the form below and check the box requesting hard copies. We will be in touch to organise further details.