Clint's Story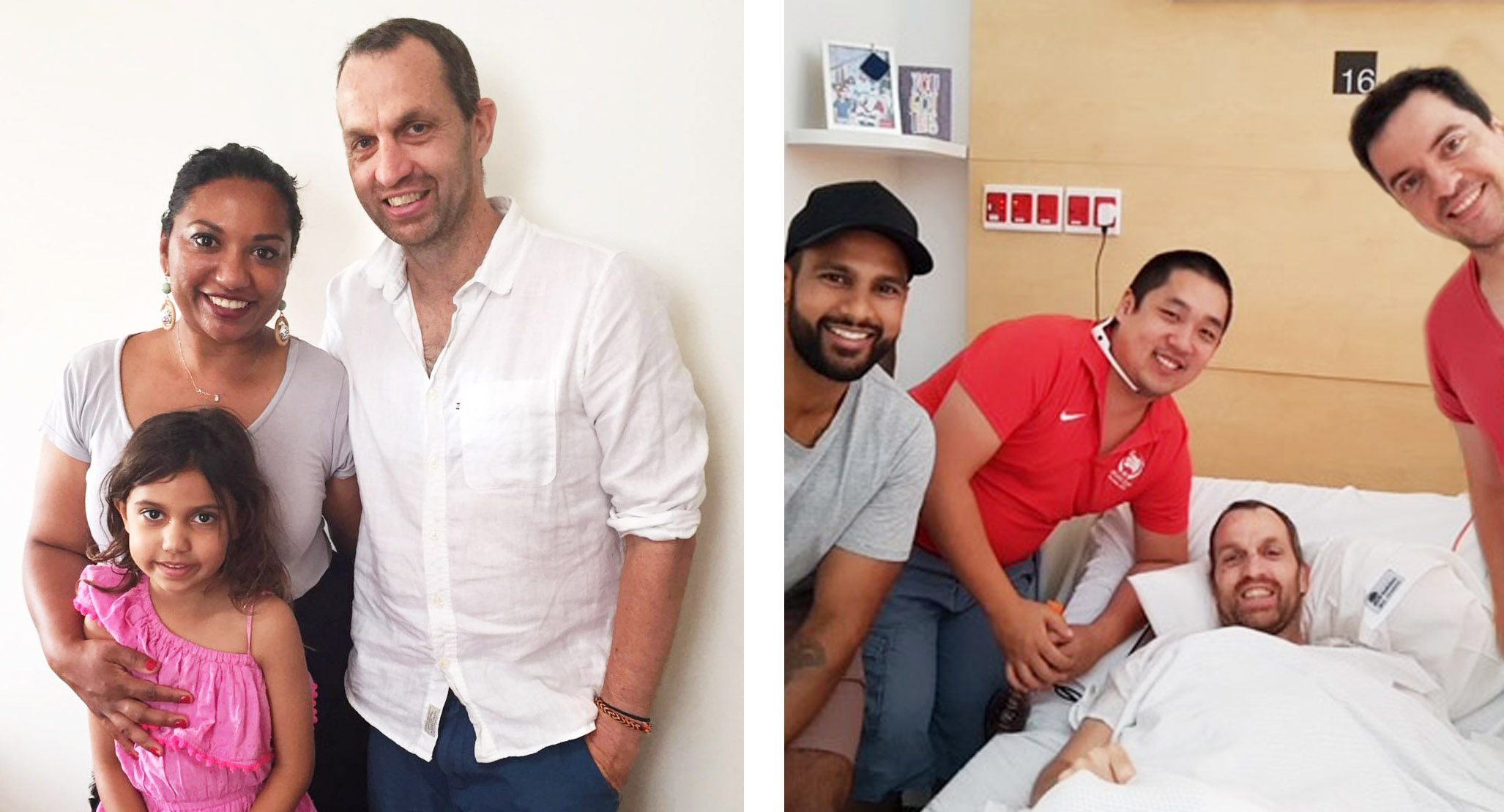 Clint's Story
"I grew up in Melbourne and my dad and uncle were both diagnosed with bowel cancer whilst I was at school. At the time, as a teenager, this news rocked me and stayed with me for a long time, so when I reached 30, it was advised to have a colonoscopy every few years which I always did and always came back clear. My older brother had been diagnosed with Leukemia and he was in hospital for many months being treated. Luckily all of my family members have since fully recovered.
Around 2008, I started a stint living in the UK with my wife and we had a great time. We did lots of travelling because everything was so close, I was happy and always in great health. We had only intended to go for one year, but we stayed for 10.  We were fortunate to have our daughter in the UK but our move back to Australia which was perfect timing as she was just 6 months old.  Life was good, we were again enjoying the great outdoors that Australia had to offer - we moved to Sydney and 2019 was going to be a big year for us as a family. 
Healthwise, I had been feeling uncomfortable after eating a meal. I initially put it down to indigestion, however, over the next few weeks the pain continued to come and go. On a scale, this was about a 2/10 so it didn't affect me too much or disturb my normal day-to-day activities so I dismissed it because I was still going through life as normal;/work/friends.
Our daughter had just commenced her 1st year in Primary School when I was offered an amazing job opportunity in the USA.  I was pretty ecstatic at the opportunity, but the night the job offer came through, I was riding my bike home from work when I lost control and broke my collarbone. I didn't know it at the time, but that bike accident could have actually saved my life.
While seeing my GP about the collar bone and as I was due to leave for overseas, he asked "is there anything else.  I then remembered the indigestion pain I felt and mentioned it to him and noted "it is nothing serious, but sometimes when I eat I feel a heavy pain in my upper abdomen". My GP couldn't feel anything abnormal but suggested I have a scan but I just thought I thought it could have been anxiety-related ahead of the big trip.
A week later I had my scan and only 10 mins into the drive home, my phone rang. I don't usually answer calls from random numbers but did on this occasion – we were about to leave to the US so thought friends may be ringing to wish me luck. I went in to see my GP and was told I had pancreatic cancer and "it doesn't look good". My wife and daughter were at the park nearby when I was told the news and said my wife should come to the room. We were both in shock and disbelief but my GP suggested not to Google anything and follow the professionals advice. We stayed in Sydney and our GP arranged for me to see Professor Jas Samra the following Monday.
From then on, everything moved very quickly. We had two days to digest the information, let family know, advise friends but more heartbreaking was telling my 5yo daughter at the time that we were no longer moving to the USA and daddy had cancer.
The following Monday my wife and I met with Prof Samra. I was admitted directly to hospital from his office, unexpected and scary. I was in hospital for weeks having numerous scans most frustrating was being in hospital on observation, not being able to go home and personally I felt fine. Two weeks after being admitted to hospital, I was allowed to go home and started Chemotherapy the following week.
I had 3mths of chemotherapy, 6 weeks of radiotherapy, surgery and then further rounds of chemotherapy to "mop up" any bits. It was an enduring 18mths of treatment.
The experience has hit me hard. Two and a half years on, I am still struggling with energy, concentration levels and mood swings, which I never had before. My GP told me never work again, "your retirement has come 20 years early" he said but looking at the statistics I am just happy to still be here.
I have scans and check-in with my surgeon and radiologist every three months and the week before every scan is nerve-racking. I don't think that will ever pass but thankfully, so far, all my scans to date have been clear.
I am forever grateful to my medical team and the support staff at the RNSH, family (especially my wife) friends and my employers for their support. I just feel lucky to have been given this chance because it is beyond belief how one day you think your life is all planned out and the next it is tipped upside down.
I have no wise words on how to get through it.. just take it day by day and everyone can find their own coping mechanism and what works for them. When I was young my dad used to listen to the races on the radio and this memory takes me back to my childhood. During treatment I would lay on my bed and listen to the races and it just relaxed me, it was my zen moment, but it also reminded me of happy times in my childhood.  I willed myself not to worry and I never lost sleep because could not do anything about the situation except try and stay strong in the mind and listen to all the experts around me of course. 
I feel the journey continues, as life post-cancer doesn't automatically go back to normal – it is readjusting to this new normality. At one time in my life, I was heading overseas for a dream job with my family, now I'm just happy to be here. I count myself lucky that I can be with my family and take my daughter to school and collect her each day. It's the simple things that matter most now."