Stanthorpe Agricultural Show
Thursday, May 5, 2022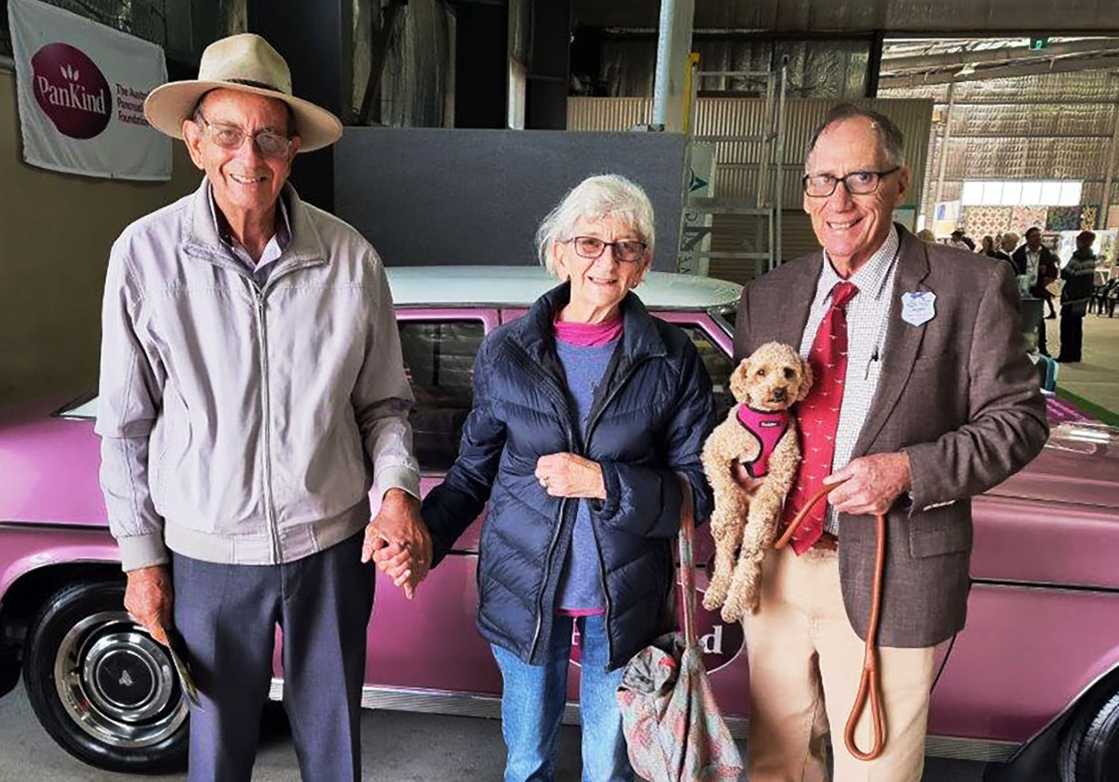 PanKind, The Australian Pancreatic Cancer Foundation ambassador and pancreatic cancer survivor, Ian Mundell, along with his wife Judi, recently visited the 146th Stanthorpe Agricultural Show to help spread awareness for pancreatic cancer to the rural communities of Queensland and Northern New South Wales.
Ian & Judi set up their PanKind stand in The Peter Bonner Exhibition Centre with the Holden HQ "Avner" proving to be an excellent drawcard to attract people Former President of the Stanthorpe Agricultural Society, Peter Bonner was a popular local figure and sadly lost his life to pancreatic cancer in 2020. Fittingly Peter's greatest legacy to the Stanthorpe Show and its future was having the all-purpose Exhibition Centre renamed The Peter Bonner Exhibition Centre during the 2020 Stanthorpe Show in February, just a few weeks before Peter celebrated his 80th birthday.
The Mundells who have become PanKind ambassadors and passionate advocates for progress in pancreatic cancer outcomes reflected on their ongoing efforts to draw attention to the disease in the bush.
"A the show we were privileged to meet many people affected by the disease and importantly we represented someone for people to talk to," said Ian. "We were also privileged to meet Maureen and Trevor who were admiring "Avner" and were interested in the story of the car with a purpose.  I was discussing by own experience of the Whipple which gave Maureen her opportunity to share her own story.  In 2008, Maureen had the Whipple procedure and her entire Pancreas was removed since then she has led a very normal life be it with copious amounts of Creon and insulin. Maureen is a great example of hope for others."
"I know first-hand what pancreatic cancer patients in rural and regional areas face when diagnosed with the disease. I was experiencing symptoms of tiredness and back pain for more than 12 months but was told after my first visit to the GP that I was "old and doing too much" and to take it easy and that it would all go away."  I eventually required a 6-hour surgery to remove part of the pancreas, followed by chemotherapy and now, 2 years later I feel fortunate to have been detected early, and want to help make a difference for others."
Michelle Stewart, PanKind CEO, says "we know that the pancreatic cancer survival rate in rural areas sits at a critically low 6%. Those living at a greater distance from major centres experience poorer access to high-quality cancer care, including clinical trials, than those living in the city and the awareness is also very low. The work that Ian and Judi Mundell undertake to help raise awareness is incredibly important to help improve outcomes. We can't thank them enough"