Pancreatic Cancer Awareness Month
Monday, October 30, 2023
In 2023, pancreatic cancer is expected to take more Australian lives than breast cancer, with an estimated 3669 people expected to lose their lives. Now classified as a 'common cancer', it has the lowest survival rate of all major cancers at just 12.5%, making it one of the most dangerous cancers in Australia.
This November, we aim to increase public knowledge and research funding for pancreatic cancer through 'Pancreatic Cancer Awareness Month', and 'World Pancreatic Cancer Day'.
Survival rates in prostate, breast and skin cancers are now over 90% and this can be directly attributed to investment in medical research. In comparison, only 5% of pancreatic cancer patients respond to current treatment options, resulting in a 12.5% survival rate, which drops to an alarmingly low 6.8% for those living in regional Australia. Awareness on a national scale is critical to ensuring Australians know that pancreatic cancer needs to be addressed.
With World Pancreatic Cancer Day just around the corner, PanKind, in collaboration with other member organisations of the Australian Pancreatic Cancer Alliance, will be lighting up iconic venues across Australia to raise awareness and shine a light on the disease. From Melbourne's MCG to Hobart's Tasman Bridge, iconic locations will come together in purple to raise awareness for the disease and honour those who have sadly lost their battles. See the full list below.
World Pancreatic Cancer Day
Held on November 16, 2023, World Pancreatic Cancer Day brings people around the world together to highlight the need for greater awareness, funding and research for pancreatic cancer.
World Pancreatic Cancer Day is our moment to learn more about the risks and symptoms of pancreatic cancer and on this day, organisations around the world push to do more; to learn, to teach, to advocate more research funding and the world to take notice.
This year's theme is 'Hello Pancreas'- a campaign designed to encourage individuals to be more in touch with the important role the pancreas plays in the body's everyday function. Through recognising this role, and learning more about the pancreas, The World Pancreatic Cancer Coalition hopes to make society more aware of pancreatic cancer symptoms and risks, to ultimately increase early detection and survival rate. 

You can play a part
Alongside visiting our lights locations leading up to the day and on the day itself, you can fundraise directly towards medical research which is the key to lifting pancreatic cancer survival rates.

It's easy to raise awareness of the disease during November and especially on World Pancreatic Cancer Day on 16 November. Access resources and key messages to share during the month of November. The 2023 assets will be updated on 1 November.
Each and every fundraising effort across our nation helps us achieve our mission of tripling pancreatic cancer survival rates and dramatically increasing the quality of life for patients and their families.
There are so many ways you can easily raise funds for pancreatic cancer research, the opportunities are endless, but here are some of our ideas:
Healthy lifestyle challenge – Join a run, swim or cycle challenge, or make a positive lifestyle change for 30 days.
Create a tribute or in-memory page for a loved one
Host a 'Splash of Purple' Day, and encourage your workmates, teammates, friends and family to wear a touch of purple on 16 November in exchange for a donation
Host a morning tea on World Pancreatic Cancer Day on 16 November
Hold a "Bake-a-thon" at work and ask colleagues if they can contribute
Organise a #PlayinPurple Golf day at your local club
Host a pancreatic cancer BBQ fundraiser for friends or family
Contact us at info@pankind.org.au for more information, fundraising ideas, and to obtain a 'Community Fundraising Agreement' form.

2023 'Light Australia Purple' locations: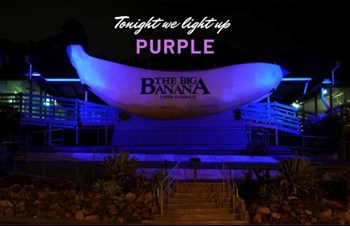 NSW:
Coffs Harbour
The Big Banana - 16 November
QLD:
Brisbane:
Story Bridge - 15 November
Reddacliff Statues - 15 November
Victoria Bridge - 15 November
City Hall - 15 November
King George Square - 15 November
Wickham Terrace Car Park - 15 November
Breakfast Creek Bridge - 15 November
Sir Leo Hielscher Bridge - 16 November
Government House - 16 November
Townsville:
Queensland Country Bank Stadium - 16 November
Townsville Sign - 16 November
Wharton Reef Bridge - 16 November
Victoria Bridge - 16 November
George Roberts Bridge - 16 November
Old Magistrates Court House - 16 November
Flinders Square - 16 November
Little Fletcher Bridge - 16 November
Central Park Boardwalk - 16 November
Logan:
Logan Water Towers- 16 November
VIC: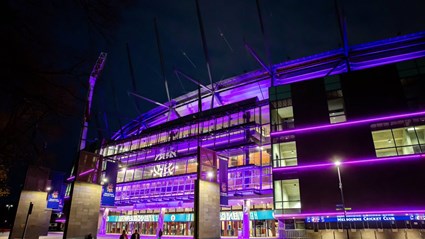 Melbourne:
The MCG - 16 November
AAMI Park - 14 & 16 November
Kingston Clock Tower - 16 November
Luna Park Melbourne - 17 November
SA:
Adelaide:
Adelaide Oval - 16 & 17 November
TAS:
Hobart:
Tasman Bridge - 12-16 November
Rose Garden Bridge - 13-19 November
Doone Kennedy Hobart Aquatic Centre - 13-19 November
Cardinal Lights - 13-19 November
Franklin Square Fountain - 13-19 November
Elizabeth Mall - 13-19 November
Kennedy Lane - 13-19 November
Crowne Plaza Hobart - 16 November
Wrest Point - 16 November
Launceston:
Launceston Town Hall (St John Street Facade) - 16 November
Devonport:
paranaple convention centre - 16 November
Glenorchy:
Glenorchy Council Chambers - 12-19 November
WA:
Perth:
Matagarup Bridge - 15 November
Mounts Street Bridge - 15 November
Sky Ribbon - 15 November
Joondalup Drive Bridge - 15 November
Northbridge Tunnel - 15 November
The Bell Tower - 15-16 November
Busselton:
Busselton Civic Centre - 16 November