Australia turns purple for pancreatic cancer
Monday, November 7, 2022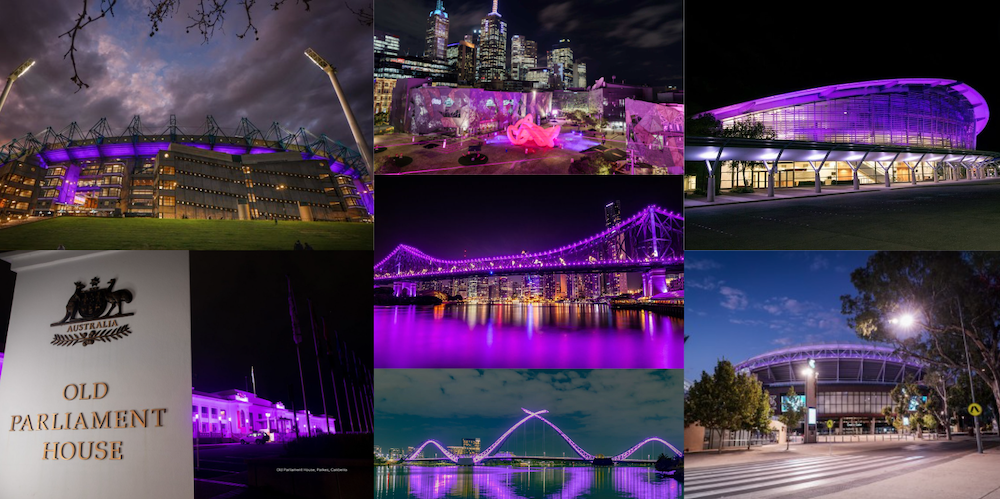 Australia, it's about time.... to shine a light on pancreatic cancer.
November is recognised globally as Pancreatic Cancer Awareness Month and is an important time of year for communities to raise awareness of the disease, celebrate survivors and honour loved ones.
We are proud to stand alongside global like-minded organisations as part of The World Pancreatic Cancer Coalition, which of more than 95 organisations from over 35 countries and six continents that elevate global awareness, inspire action, and bring greater attention to the disease to improve outcomes ultimately.
This year, PanKind is pleased to announce that alongside the Australian Pancreatic Cancer Alliance, we will be lighting up every state in Australia purple for pancreatic cancer. From Melbourne's MCG to Sydney's Central Station, iconic locations across Australia have agreed to light up their buildings purple to raise awareness for the disease and honour those that have sadly lost their battles. 
PanKind CEO, Michelle Stewart Says "This month we're lighting cities across Australia purple to raise greater awareness of pancreatic cancer and to advocate for better outcomes at a national level, for patients and their families. We want to start a conversation about the signs and symptoms and the importance of early detection, to draw more attention to the disease which affects thousands of Australians every year.  Pancreatic cancer is the third most common cancer killer in Australia and has a devastatingly low five-year survival rate of just 12.2 per cent, which drops to an alarming low of six per cent for patients in rural, regional and remote areas. Awareness on a national scale is critical to ensuring Australians know that pancreatic cancer needs to be addressed."
Over the last few months, PanKind has been working closely with venues in all states to raise awareness and turn their buildings purple this November. Here are the locations you can expect to see lit up this month:
NSW:
Central Station Grand Concourse (17th Nov)
Westconnex St Peters Interchange (17th Nov)
Newcastle City Hall (17th Nov)
City Beach Function Centre (17th Nov)
The Big Banana (17th Nov)
Olympic Park Precinct (17th Nov)
Manly Town Hall (17th Nov)
VIC:
Fed Square (17th Nov)
MCG (17th Nov)
Glen Eira Town Hall (17th Nov)
AAMI Park (17th Nov)
Bolte Bridge and Sound Tube (17th Nov)
Kingston Clocktower (17th Nov)
QLD:
Story Bridge (16th Nov)
Victoria Bridge (16th Nov)
Wickham Terrace Car Park Architectural Wall (16th Nov)
The Breakfast Creek Bridge, Newstead (16th Nov)
City Hall (16th Nov)
King George Square (16th Nov)
Kurilpa Bridge (16-20th Nov)
Sir Leo Hielscher Bridges (18-20th Nov)
Brisbane Convention and Exhibition Centre (13th-20th Nov)
Southbank and Roma St Parklands (17th Nov)
UQ St Lucia (13-20th Nov)
The Queen St Mall, Wintergarden Facade (17th Nov)
Suncorp Stadium (16th Nov)
QPAC (Dates TBC)
Government House Queensland (17th Nov)
Marina Mirage (17th Nov)
AOSCO Sites- Digital Billboards across the city (13th-20th Nov)
ACT:
Old Parliament House (17th Nov)
Royal Australian Mint (17th Nov)
SA:
Adelaide Oval (15th Nov)
Adelaide Parliament House (17th Nov)
TAS:
HCC Sites (14th-20th Nov)
Crowne Plaza Hobart (13th-20th Nov)

Launceston Town Hall (17th Nov)
WA:
Matagarup Bridge (16th Nov)
Mount Street Bridge (16th Nov)
Sky Ribbon (16th Nov)
Joondalup Drive Bridge (16th Nov)
Northbridge Tunnel (16th Nov)
The Bell Tower → WA (16th - 17th Nov)
Busselton Civic Centre (17th Nov)
Bunbury Outer Harbour (17th Nov)
Elizabeth Quay (17th Nov)
Biodiversity and Convention Centre (Kings Park and Botanic Garden) (17th Nov)
NT:
Parliament House Fountain (17th Nov)
Darwin Convention Centre (17th Nov)
Whilst visually stunning, this lighting campaign will also encourage individuals to learn more about the disease, its risks, and highlighting why more needs to be done in regards to research and treatments. Current patient Judi Adams said "Lighting the landmarks is only part of the journey, people can see the pretty lights and think, 'Oh, something's lit up' and not realise what it's about. Even if only one person sees this, and it prompts them to do something, that's a good result, if it turns out that they've caught something early." she said. 
There are plenty of opportunities for you to get involved in the coming month! Follow us on our social media pages, and share your photos of the lights to the hashtags #ItsAboutTime and #LightitPurpleAUS. It's a big month ahead, so get behind us and show your support for pancreatic cancer!