Award winning researchers come together to fight Pancreatic Cancer
Monday, November 19, 2018
Award winning researchers come together to fight Pancreatic Cancer
On World Pancreatic Cancer Day 15 November 2018, Avner-funded researchers from all over Australia gathered to fight Pancreatic Cancer.

Coming from five states and eight different universities, leading scientists presented their work and discussed advancements and future prospects.

The only symposium dedicated to Pancreatic Cancer nationwide, the Avner Pancreatic Cancer Symposium provided an opportunity for researchers to meet with clinicians and community members to solve the world's toughest cancer.
The day opened with Hon Greg Hunt MP, Minister for Health, delivering a video message welcoming all attending and assuring the government's attention towards Pancreatic Cancer.
The 2018 Avner Pancreatic Cancer Foundation grant recipients were then announced- congratulations to Dr Ganessan Kichenadasse from Flinders University, Professor Christopher Heeschen from the University of New South Wales, Dr David Herrmann from the Garvan Institute of Medical Research and Associate Professor Phoebe Phillips from the University of New South Wales.
These grants now make 22 grants funded by the Avner Foundation over four years, and a total of $6.2 million. In addition, from the $6.2mil donated, an extra $5.2mil has been awarded to researchers from other funding bodies for completing high impact projects.

Past and present Avner grant recipients then presented updates on work in new treatments and biological markers for early detection. Treatments focused on gene therapy, immune therapy and treating a tumour's 'microenvironment'.

"Listening to real progress from the generous support Avner has provided across diverse projects is both satisfying and inspiring", said Avner Scientific Advisory Panel chairman Professor Ross McKinnon.

The symposium was also an opportunity for upcoming early career researchers to put their work on show and prizes were awarded for the most compelling presentations. Kendelle Murphy from the Garvan Institute was awarded the BBA Young Investigator award for her talk, and John Kokkinos from UNSW the Bioscience Reports poster award.

"The early career researcher forum was particularly dynamic and highlighted the many talented young scientists now focused on advancing progress in Pancreatic Cancer thanks to Avner support", said McKinnon.

Panel discussions were held to bring minds together on achieving better outcomes for Pancreatic Cancer. Researchers and clinicians proposed strategies, such as a national research centre for the disease. The research centre could house a database on all Pancreatic Cancer patients and an Australian clinical trials registry, giving every patient across the country equal access to clinical trials.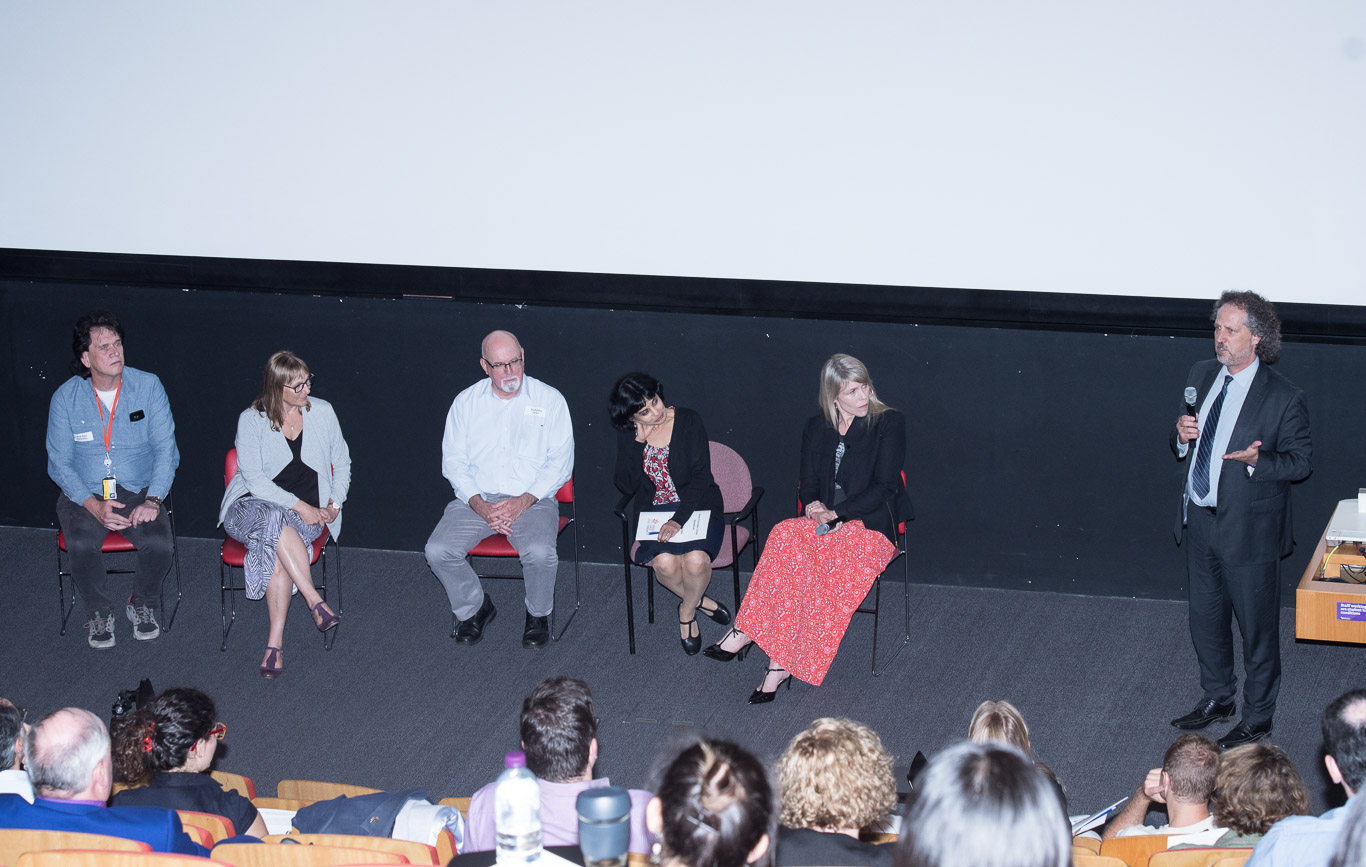 Later in the day, audience members were privileged to hear a patient's perspective when Phillip Kelleard told his moving survival story.

The symposium closed with a Q&A panel facilitated by Prof Ross McKinnon. Claire Harvey, ambassador for Avner Pancreatic Cancer Foundation and daughter of Peter Harvey who succumbed to the disease in 2013, also joined us for the symposium and was on the panel. Panel members were asked to describe in one word what we need to advance Pancreatic Cancer progress:

Integration. Collaboration. Perseverance. Strive. Possible.

Sincere thanks to all the presenters, facilitators and all who contributed to the great success of the day. We also express our thanks to the University of Sydney for hosting the day and to the sponsors of the symposium.
A huge thank you to the organising team from the University of Sydney without whom the symposium would not have been possible: Prof Des Richardson, Dr Zaklina Kovacevic, Dr Sumit Sahni, Dr Patric Jansson, Dr Danuta Kalinowski, Dr Dong-Hun Bae, Dr Michael Huang and Kevin Park.