A car with a purpose
Tuesday, November 9, 2021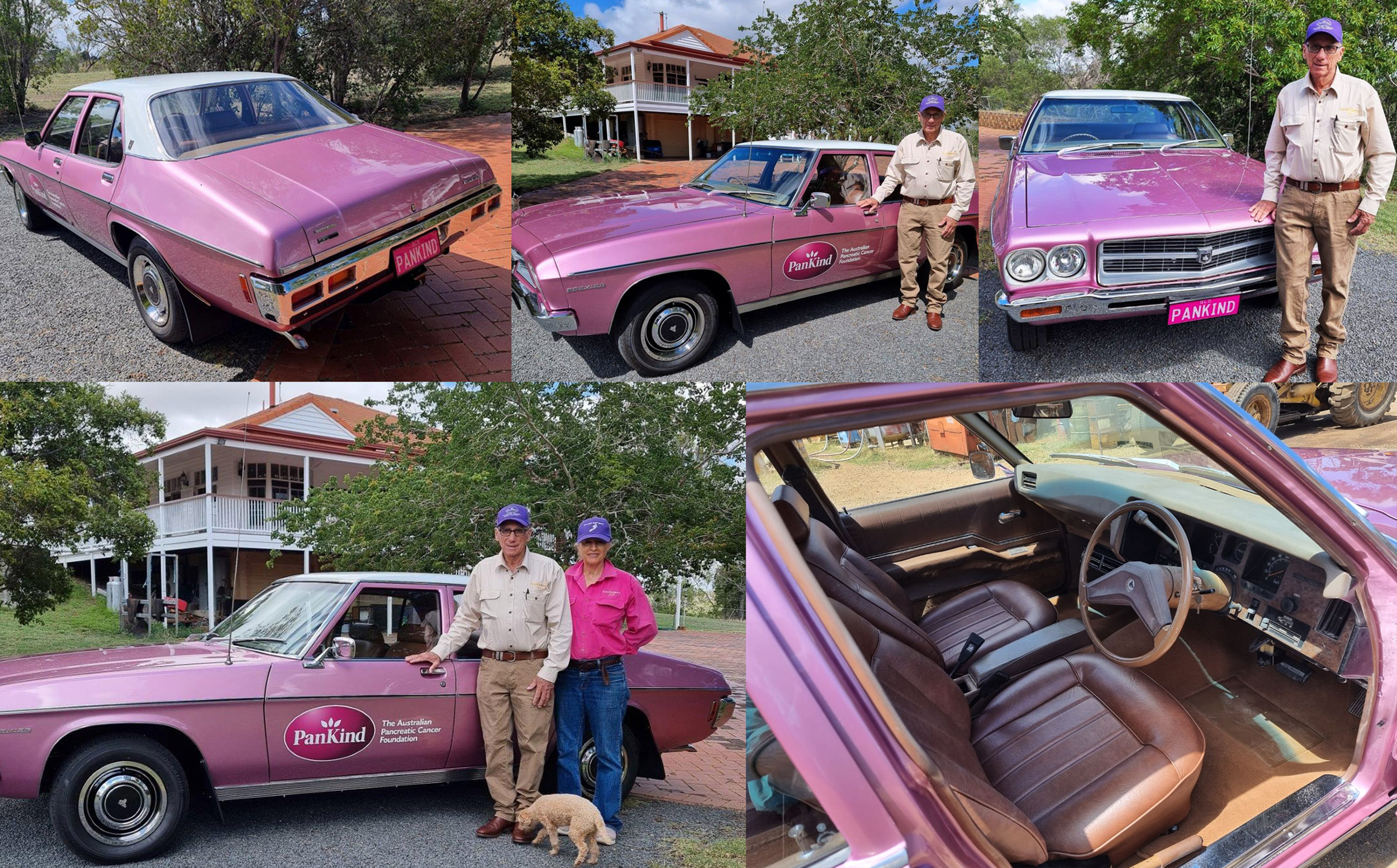 In May 2019, Queenslander Ian Mundell was diagnosed with pancreatic cancer and began searching for survivors of the deadly disease, but came up empty-handed.
"When my GP delivered the news, my wife Judi and I were left sitting stunned and silent in his practice. I was told if I didn't do something, I could be dead by the end of the month, so I pushed to find out all the available options." Mr Mundell eventually had a 6-hour Whipple surgery to remove part of the pancreas, followed by chemotherapy and considers himself fortunate to have been detected early.

'There was not a lot of information out there and rural people are usually too busy and will tend to ignore symptoms. During my pancreatic cancer journey it became very clear that in the bush we need both greater awareness of the disease and better access to high-quality care. The amount of people I meet in remote areas who have been touched in some way by this disease, is astounding" 
Now, more than 2 years on, Ian says the result is due to the brilliant surgeon and senior staff at Greenslopes Hospital in Brisbane, plus the equally brilliant care of his oncologist and excellent staff at the Mater Rockhampton, and of course his wife Judi. "I have been on three monthly tests since the procedure and two and a half years later, I am still all clear," said Ian.
After his own battle and recovery from pancreatic cancer Ian, and wife Judi, are now passionate advocates and have spent much of the last year and a half helping others affected by the disease, raising awareness and funds for pancreatic cancer research.
In his efforts of raising awareness, Ian donated $20,000 worth of stick raking to one lucky visitor at the 2021 Beef Expo but has been recently working on a new project, one he is particularly passionate about "It is definitely a "she" as she is far too pretty to be a he!"
Naturally, Ian is talking about his HQ Holden, 1974 model which has been beautifully restored and ready to help raise even more awareness in rural and remote areas of Australia, just in time for Pancreatic Cancer Awareness Month.
"I have a passion for the HQ model Holden and have several in original, mint condition, all at this stage unrestored.  The Premier, being Orchid in colour I thought would be suitable to restore as a promotional vehicle for PanKind, particularly to get awareness into rural areas, where distance makes it difficult to visit.
"I was stunned to learn that the five-year survival rate of pancreatic cancer is 11.5%., however only 6% in rural Australia so our intention is to take the car to rural gatherings such as country shows, sporting events such as campdrafts, rodeos, race meetings etc. where people are away from their workplace, and I believe will be interested in the car. Many of these people are keen to support charities, so I also believe it will create an opportunity for people to donate much-needed funds for research into early detection. The dedicated and kind people involved in this Foundation encourage Judi and I to do all we can to help the cause".
We are holding a naming competition for Ian's Holden HQ that will, over the coming months, travel to various locations and events across rural Australia. Join in the fun here and have a go at naming Ian's second love on the link below:
https://www.surveymonkey.com/r/MNMK8JK
For the car buffs
Ian recounts his labour of love for car lovers "We commenced work on the car one year ago, stripping it down to fully rebuild. Basically it was rubbed down to the bare metal, chassis rails removed, all mounting rubbers replaced, all steering and suspension wear parts replaced.  Engine reconditioned (I was fortunate enough to find all genuine and ACL Australian made engine components in old stock at Hillman Motors Rockhampton.  The Trimatic Transmission rebuilt, all upholstery resorted by Peter at Swains, Rockhampton, windscreen replaced by Novus Glass, Rockhampton (Donated) Signage by Centre State Signs (Donated) and full dyno tune by Brad at his business Prodyno Rockhampton (Donated).  We purchased many parts from Rare Spares, Brisbane and thank them for discount they allowed.  Ronny Moore passed her for roadworthy, with flying colours (Donated). PPQ supplied the PanKind number plate at a discount rate in September. The car is repainted in its original colour Orchid. With the Glacier white roof, it is all matching numbers as it left Acacia Ridge (Brisbane GMH Factory) in July 1974.