Wish You Were Here Gala Dinner
Thursday, November 28, 2019
In 2019, the Wish You Were Here team completed their biggest challenge yet, a trek to Mt Everest Base Camp with 12 committed Australians and partnered by Wild Spirit Adventures, the team trekked across the highest mountain range on earth to highlight the drastic need for increased public awareness and funding for pancreatic cancer.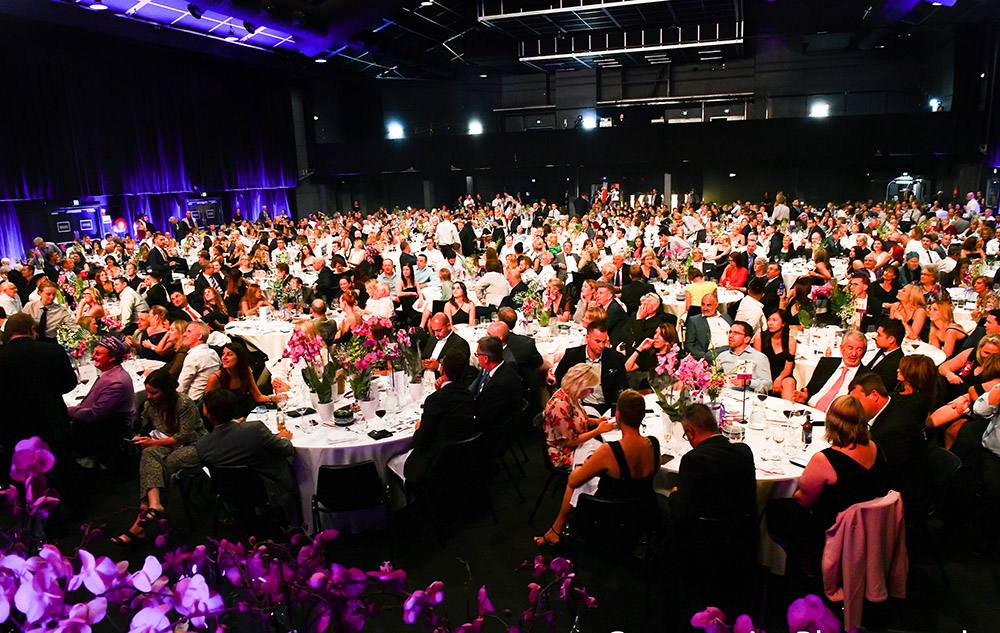 Almost 750 guests packed the Big Top at Luna Park in Sydney to support pancreatic cancer research
Upon their return, the team organised the biggest gala event for pancreatic cancer ever seen in Australia on 20 November, turning Luna Park in Sydney purple for the cause, and raising a total of $311,000 for pancreatic cancer research.

Almost 750 guests were joined by Australian sporting great, event ambassador and keynote speaker Hugh Bowman along with host for the evening, Tim Gilbert from Sky Racing. Guests were entertained by Christine Anu and the Australian Girls Choir and there was enormous support by guests for fundraising during the live and silent auctions on the evening.
The NSW Premier, Gladys Berejiklian, made a video address welcoming guests, congratulating the WYWH team on their achievements and that the event would officially kick off World Pancreatic Cancer Day.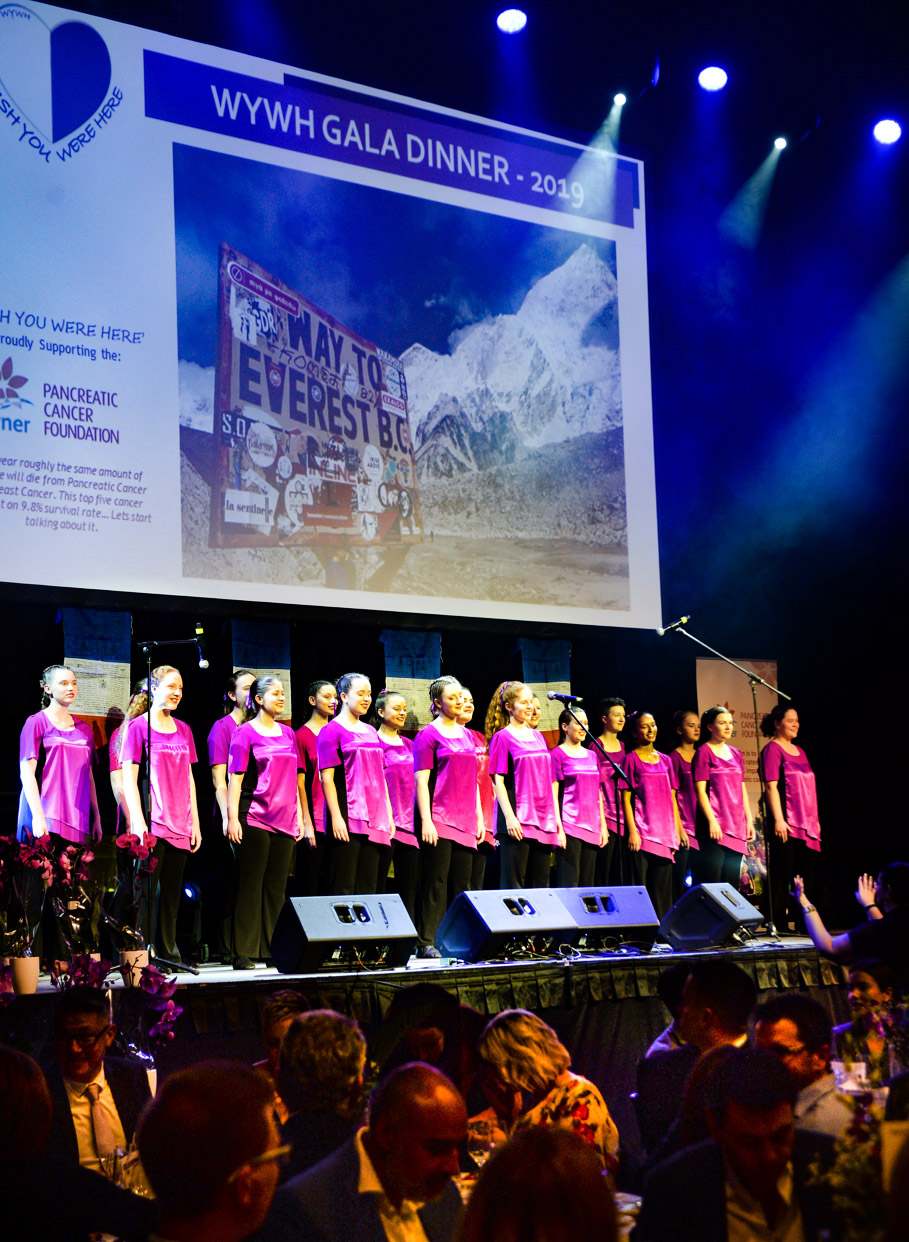 The Australian Girls Choir and Christine Anu entertained the crowd
WYWH team leader, Con Kanellis, spoke to the crowd saying "on behalf of the WYWH team we thank you for all your support and for attending tonight's event. We would also to thank our incredible volunteers who have donated their time, our host Tim Gilbert, event ambassador Hugh Bowman, and our entertainers. I'd also like to thank and acknowledge our sponsors, without whom tonight wouldn't be the success that it is. Through their generous donations each company has demonstrated their commitment to social responsibility, but their presence here tonight illustrates how Corporate Australia is committed to important community causes like Pancreatic Cancer.

Finally, amongst us tonight there are countless wives – husbands – children and grandchildren of victims of Pancreatic Cancer together with several survivors, this event belongs to each, and every one of you and your presence adds meaning and purpose to our campaign - thank You!"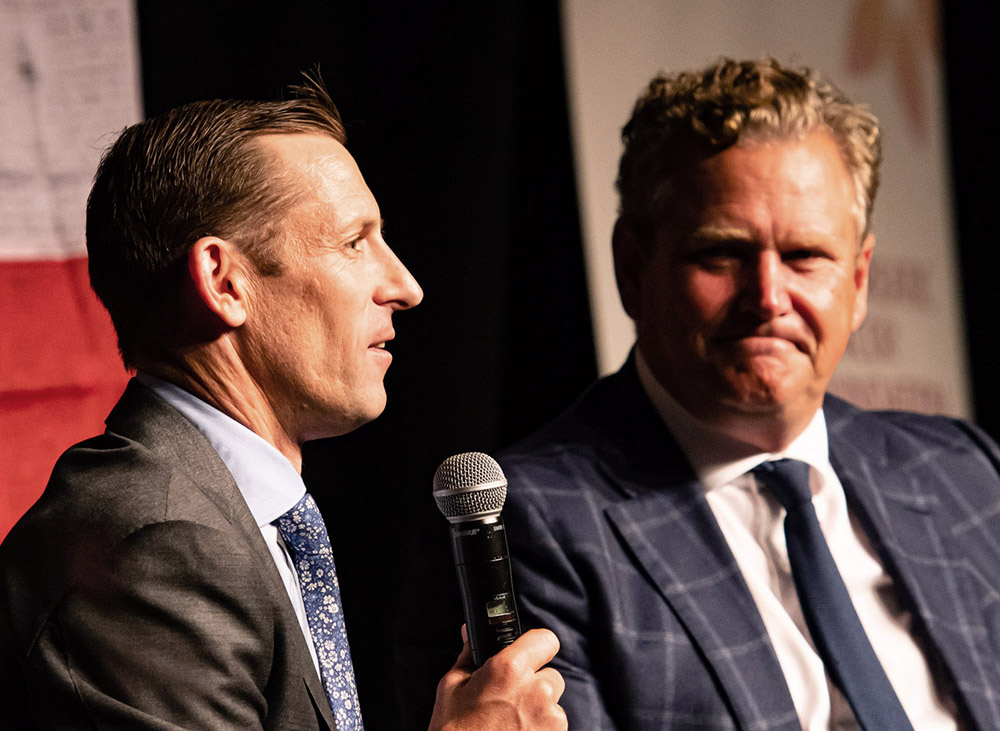 Australian sporting icon Hugh Bowman provided insight into his racing career on stage with Tim Gilbert from Sky Racing
Campaign ambassador and Australian sporting legend Hugh Bowman gave an insightful interview to Tim Gilbert on stage. Hugh shared insights and anecdotes on his career in racing, specifically on his journey with super mare Winx, keeping the crowd entertained with his relaxed humour.
Avner Foundation CEO Michelle Stewart then addressed the crowd with updates from the Foundation, focusing on the specific research being undertaken by pancreatic cancer researchers across the nation before Co-Founder Caroline Kelly presented the WYWH Founders, Scott Hunt and Con Kanellis, with a certificate of appreciation and the dedication of a 2019 Innovation Grant to the WYWH team.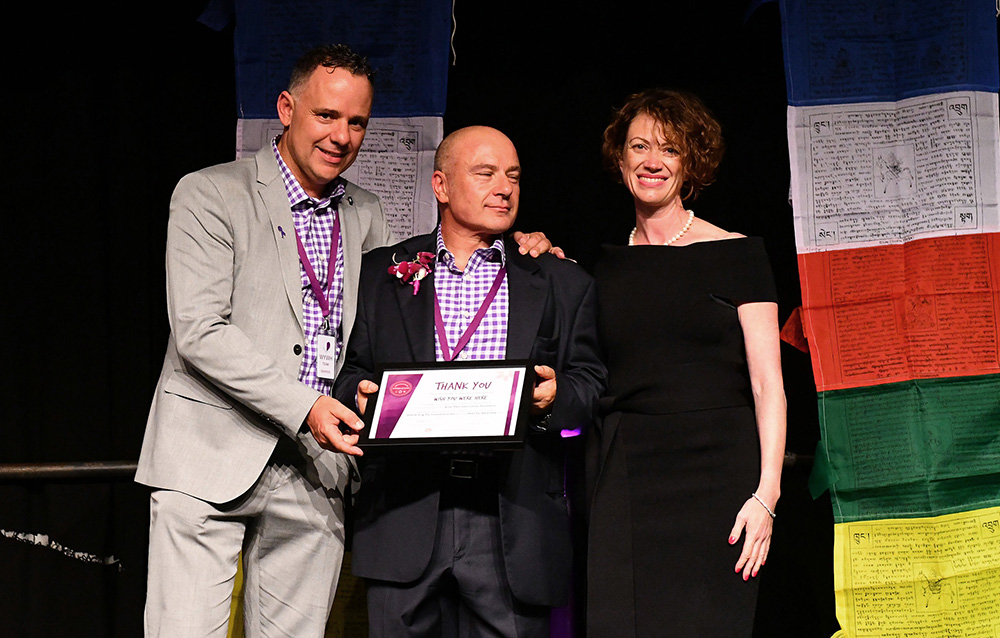 Avner Foundation Co-Founder Caroline Kelly presents a certificate of appreciation to WYWH Founders Scott Hunt and Con Kanellis
Woolworths showed wonderful support on the evening by contributing an army of volunteers, and Senior executive Ralph Kemmler, also part of the Everest base camp trekking team in 2019, made a personal and moving speech.
If you were not able to attend the event you can still support the team and raise funds for pancreatic cancer research.