RPA Pancreatic Cancer Management Symposium 2022
Tuesday, November 15, 2022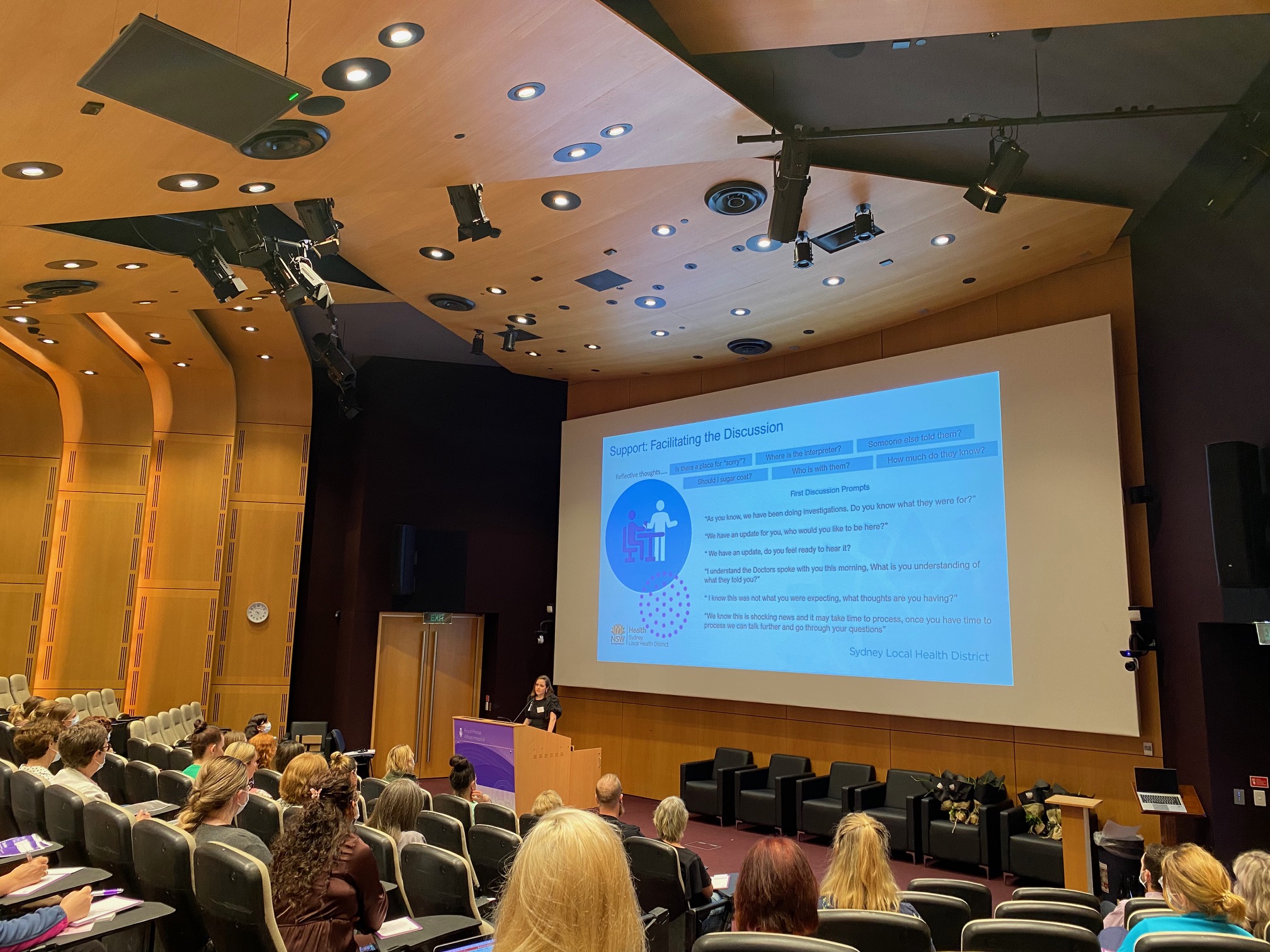 PanKind is thrilled to be at Sydney's Royal Prince Alfred (RPA) Hospital today to attend the Pancreatic Cancer Management Symposium.
Hospital practitioners were joined by specialists from RPA and affiliates to hear the latest initiatives and approaches to caring for patients managing pancreatic cancer. This fantastic learning opportunity has not been available to hospital practitioners since COVID-19, so it was great to see so many people here learning as much as they could about this disease and its treatments.
Throughout the day, different members of the PanKind team stopped by to chat with the hospital staff, attend different information sessions, as well as share our knowledge and resources with attendees.
PanKind CEO Michelle Stewart said "We have had the most amazing day at the 'Pancreatic Cancer Management Conference' here at RPA today. We've met study coordinators, cancer coordinators, nurses, and allied health members from all around NSW, who are all supporting pancreatic cancer patients. We have a lot of resources here today, and they are being picked up pretty quickly by these nurses, and we are really thrilled that they are in the right hands. We are grateful that there is a whole day dedicated to pancreatic cancer, and pancreatic cancer management, and we feel really lucky to be able to attend and learn, as well as talk to these people that we have been communicating over the phone with for so many years."
With a jam-packed schedule, some of the highlights discussed throughout the day were:
Pancreatic cancer, the road to diagnosis and the role of the Multidisciplinary Team
Supporting patient adjustment and family adjustment in context of diagnosis
Standard of care chemotherapy and emerging trials
Pancreatic cancer: a disease in need — the roles of supportive care and palliative medicine
Endoscopic and surgical interventions in pancreatic cancer
The effects of pancreatic cancer and treatment on diabetes control
Radiation Oncology
Psychosocial impacts of pancreatic cancer
Nutrition in pancreatic cancer
And, Pancreaticoduodenectomy
Attendees were also lucky to hear from Cancer Council patient ambassador Brenda Blackmore, who spoke about her personal journey with pancreatic cancer. Through this informative session, hospital practitioners were able to ask questions and hear first-hand knowledge and experience from Ms Blackmore.
In addition to the Symposium content, staff at RPA held a raffle with all proceeds going to PanKind to be put into further research and treatments for pancreatic cancer. 
Many thanks to the Conference Convenors, Hannah Blyth and Lucy Stevens, both of whom are A/UGI Surgical Cancer Care Coordinators, for putting together this informative day!
To read more about the information and resources we have available, click here.