Former Chief Medical Officer appointed to Board
Thursday, September 10, 2020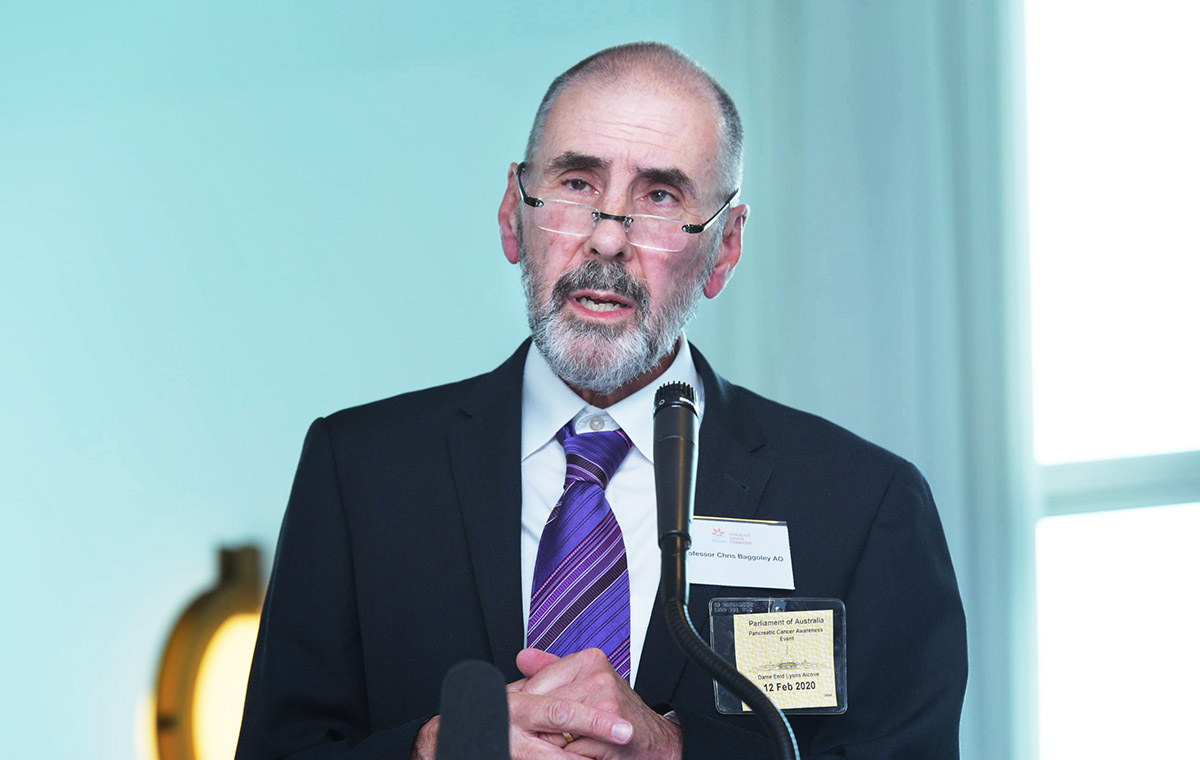 Avner Pancreatic Cancer Foundation is delighted to announce the appointment of Professor Chris Baggoley AO, former Chief Medical Officer of Australia, to our board of directors. Dr Baggoley has devoted his career to improving health outcomes in high impact roles across the public healthcare sector. 
Avner Foundation Chairman, Alan McArthur, said: "Professor Baggoley's appointment reflects our deep commitment to improving survival for people diagnosed with pancreatic cancer. Professor Baggoley is one of Australia's most eminent doctors and is internationally respected for his collaborative and thorough approach to solving complex health issues. Chris has been asked to Chair a newly formed Clinician Advisory Panel, which will provide medical, nursing and allied health advice to the Foundation and allow us to fund and advocate for activities within the health system that will ensure patients receive optimal outcomes."
Personally impacted by the disease after a rare early diagnosis in 2019, Prof. Baggoley reflected on his appointment "I am delighted to be working with Avner Pancreatic Cancer Foundation and being able to make a positive contribution to those, like me, who have been impacted by pancreatic cancer. The Foundation aims to double the survival rate of those with pancreatic cancer while also improving their quality of life, objectives that I can readily and happily support. The work they undertake to improve outcomes for those affected by this disease is essential."
A recent report released by The Australian Institute of Health and Welfare confirms pancreatic cancer is now projected to become the third most common cancer killer in Australia in 2020 which is on track to claim more lives than breast cancer and prostate cancer. Almost 4,000 people will be diagnosed with pancreatic cancer this year, and approximately 80 per cent of patients diagnosed will die within 12 months. The disease has the lowest survival rates of all main cancer types.
Professor Chris Baggoley AO
After first completing a degree in Veterinary Science with 1st Class Honours, Prof. Baggoley enrolled in the Flinders postgraduate medical program, deciding that his future lay in human health care. He went on to hold positions as Director of Emergency Medicine at both the Flinders Medical Centre and Royal Adelaide Hospital, Chief Medical Officer of South Australia and Chief Executive of the Australian Commission on Safety and Quality in Health Care. He was Chief Medical Officer of Australia between 2011 and 2016 and contributed to the international response to several global epidemics through his work on the World Health Organisation's International Health Regulations Emergency Committee.

Prof. Baggoley holds Fellowships of the Australasian College for Emergency Medicine, of the Royal Australasian College of Medical Administrators and the Australian Academy of Health and Medical Sciences. He received an Order of Australia in the 2013 Queen's Birthday Honours List for distinguished service to medicine, medical administration and public health care, and to education. He currently sits on 3 boards and resides in South Australia.
Read recent media coverage of Prof. Chris Baggoley AO and his battle with pancreatic cancer: https://www.9news.com.au/national/what-is-pancreatic-cancer-chris-baggoley-new-roadmap-health-news-australia