Avner Pancreatic Cancer Symposium - World Pancreatic Cancer Day
Saturday, December 9, 2017
For the first time since the Avner Foundation started awarding the Innovation and Accelerator Grants, past and present recipients representing 18 projects from different institutions and universities across Australia gathered in Sydney on World Pancreatic Cancer Day to share updates on their progress.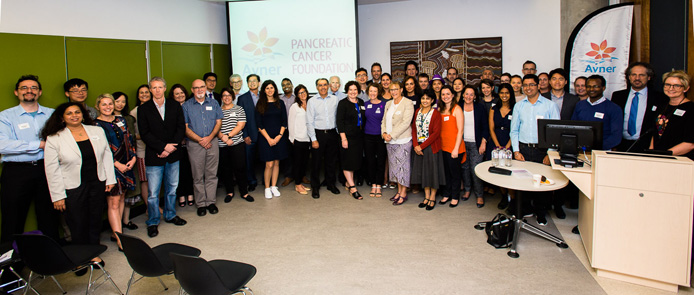 Associate Professor Phoebe Phillips convened the inaugural Avner Pancreatic Cancer Symposium and welcomed everyone to the Lowy Cancer Research Centre (UNSW Sydney) for a day of learning and networking.
The program kicked off with a series of research updates from 12 grant recipients from the 2015 – 2016 rounds, who highlighted what they have been able to achieve with the grants awarded to them by the Avner Foundation. The morning was filled with informative research updates that were grouped into those focusing on stromal reprogramming in pancreatic cancer and those whose work focuses on novel therapeutic targets in pancreatic cancer.
Amongst the 5 presenters in the first stromal research update session was Professor Minoti Apte who is internationally renowned for her pioneering work in this area. Prof Apte and her team were the first to show that cells surrounding pancreatic cells, called pancreatic stellate cells (PSCs) or stromal cells, actively help cancer cells to grow and spread. Now thanks to funding from the Foundation, grant recipients at UNSW, Garvan Institute, Centenary Institute and Kolling Institute are also making breakthroughs in stromal research.
The second session switched focus to those researchers at University of Sydney, University of NSW, La Trobe and Curtin University who are trying to find better treatments and novel therapeutic targets in pancreatic cancer.
Each presentation was met with a flurry of questions and discussion ensued, proving that the Symposium is a valuable forum for researchers to share knowledge and learning's with their peers.
The final two research updates featured two world-class resources being developed in Australia that are influencing "personalised" medicine. Firstly Dr. Belinda Lee from the University of Melbourne provided a progress update on behalf of Professor Sean Grimmond who was awarded an Accelerator Grant of $916,000 in 2016 to establish the Australian Pancreatic Cancer Organoid Biobank. Organoids are mini pancreatic organs the size of a grain of sand which are used to test the effectiveness of drugs, therefore taking the guesswork out of chemotherapy. The aim is to reduce the time it takes to find the right treatment for patients in a much quicker timeframe.
Since 2016 the Foundation has been supporting the work of the Australian Pancreatic Cancer Genome Initiative. Dr. Lorraine Chantrill gave an insightful presentation on how the APGI has paved the way for cancer genomics in Australia. With over 700 patients recruited and over 5000 tissue samples collected and stored, APGI is one of the leading members of the International Cancer Genome Consortium. The Avner APGI BioResource is a collection of biological samples coupled with comprehensive clinical and genomic data which is aiding research worldwide. It has supported 24 studies so far in 2017 in USA, Europe, Middle East and Australia all of which are accelerating scientific discoveries and improving outcomes for pancreatic cancer patients. Follow this link to find a list of studies the BioResource has supported.
Despite the demonstrated success of these resources, government funding has been minimal for these resources resulting in a significant challenge in "keeping the freezers switched on". Both these important resources are solely reliant on grant funding and donations, which sent a clear message that our fundraising and awareness raising efforts are crucial.
This genuine concern about the challenge of funding was cited repeatedly throughout the day and was identified as one of the key barriers to fostering greater collaboration amongst the pancreatic cancer research community.
During a vigorous round table discussion after the research updates, Symposium attendees voiced their concerns, identified current challenges faced by the pancreatic cancer research community and offered potential solutions as to how researchers can better collaborate with each other instead of working in isolation. The harsh reality of being a researcher is that their pay is mostly reliant on grant funding, with grant writing and funding applications consuming more and more of their time. This presents a dual challenge in that this necessary administration task takes time away from research. Reliance on this funding also creates a competitive landscape amongst researchers all vying for the same small pool of funds, which inevitably inhibits collaboration.
Young researchers participating in the Symposium commented on the impact this funding dilemma has in relation to their career development in the field of pancreatic cancer research. With tenures being temporary and reliant on grant funding; and that pool of available grants being limited with minimal government support, it is difficult to attract new talent and retain people in the field of research.
Assoc Prof Phoebe Phillips echoed this concern by quoting a loss of 25% in the total number of researchers in the leadership tier of the NHMRC Fellowship Scheme (Senior and Principal Fellow) since 2011. This represents not only a loss of highly qualified, talented and motivated individuals in the short-term, but also a devastating loss of leaders necessary to train and develop the next generation of intellectual capital.
It was encouraging to see attendees workshop solutions and conclude that a mentor program should be established between new and experienced pancreatic cancer researchers to encourage younger researchers in the early stages of their career to enter and remain in the field. Further, it would be beneficial to develop and demonstrate a "pancreatic cancer pathway" for young scientists considering research careers in the hope of enticing them to dedicate themselves to pancreatic cancer research and ultimately help in achieving better outcomes for the disease.
With funding identified as a key challenge, discussion turned towards how the pancreatic cancer research community can attract more support beyond the incredible efforts of the $2 million the Avner Foundation awards each year. The issue of minimal government funding for pancreatic cancer research was raised and parallels were drawn with other cancer research campaigns such as brain and breast cancer. The overwhelming conclusion is that both researchers and the pancreatic cancer community at large needs to step up their lobbying efforts to put pancreatic cancer research on the agenda of local, state and federal parliaments with the view of attracting more financial support from government.
This in turn highlighted the importance of community engagement in increasing awareness and raising funds for the disease. Luke Dunkerley, Board Director of the Avner Foundation, was able to translate his expertise from senior executive roles in the corporate world to offer a marketing toolkit for researchers looking to better their community engagement and inform the wider community about the ground breaking work they are doing. He added that building confidence in the outcomes of fundraising creates a virtuous circle where success breeds success. When people can see that the money they have donated is being put to good use and actually making a big difference to pancreatic cancer, they are likely to spread the word and continue to raise the funds. This hopefully creates a groundswell of support and growing the critical mass of voices who are talking about pancreatic cancer is what ultimately will catch the ear of government and make them listen.
Special guest Alberto Marchetto, who was diagnosed with pancreatic cancer 6 years ago, offered a patient's perspective to the discussion and provided inspiration for all those in the room to continue doing the wonderful work they are doing to make survival possible.
The program ended with a very positive outlook on what the future holds for pancreatic cancer research and the disease itself, with Professor Ross McKinnon, chairman of Avner's Scientific Advisory Panel, facilitating a Q&A session with researchers Phoebe Phillips, Marina Pajic, Marco Falasca and community representative Gino Lori who lost his brother to the disease. Despite the challenges, there is an overwhelming sense of determination within the Australian pancreatic cancer community to overcome the obstacles and continue to work together to increase the survival rates of pancreatic cancer.
As World Pancreatic Cancer Day drew to a close, and attendees networked over a glass of wine, it was evident that the Avner Pancreatic Cancer Symposium offered an unparalleled opportunity for pancreatic cancer researchers to discuss and collaborate for the betterment of the disease. We look forward to next year's Symposium and developing this "network of excellence" to help accelerate the path to increasing the survival rates of pancreatic cancer by 2020.