Pancreatic Cancer Awareness Month
Friday, October 18, 2019
Pancreatic cancer is predicted to become the second leading cause of cancer death in Australia in the coming years. Pancreatic cancer is not a rare disease, takes as many lives as breast cancer each year and yet there is an overwhelming lack of public knowledge and funding for pancreatic cancer.
The speed at which the disease progresses and the relatively low numbers of survivors has meant that pancreatic cancer has been left in the "too hard basket" for many decades and survival has barely increased.  

Survival rates in prostate, breast and skin cancers are now over 90% and this can be directly attributed to investment in medical research. A person diagnosed with pancreatic cancer today has less than 10% chance of being alive in 5 years.

Avner Foundation CEO Michelle Stewart said "we applaud the advocates of other top-five cancers who have driven vast improvements to survival rates.  Now is the time to apply the same focus and funding to pancreatic cancer"
Shining a light on pancreatic cancer
November is recognised globally as Pancreatic Cancer Awareness Month and is an important time of year for communities raising awareness for pancreatic cancer, celebrating survivors and honouring loved ones.
Michelle continued, "the Avner Foundation is dedicated to growing awareness and generating funds so that we can invest in cutting-edge medical research at the top institutions around the country. Our supporters can play a key role in this process by helping raise critical funds and sharing key messages during Pancreatic Cancer Awareness Month."
World Pancreatic Cancer Day
On World Pancreatic Cancer Day which falls on 21 November, we are excited to be announcing the recipients of six Innovation Grants that have been allocated by our independent Scientific Advisory Panel.
The Avner Foundation Innovation Grants program is designed to provide the critical, early-stage funding to top researchers so they can explore promising, innovative ideas that may increase survival for patients with pancreatic cancer in the future.  These grants have allowed Australian researchers to develop their pancreatic cancer research to a stage that can attract large scale funding and global recognition.
Head of the Scientific Advisory Panel, Professor Ross McKinnon said "The 2019 round saw a further dramatic increase in the number of grants considered by the Avner Scientific Advisory Panel. The quality of the grants received was clearly the highest yet with remarkable breadth. Most notable was the move of many high-quality cancer groups into the highly challenging pancreatic cancer field".

Play your part
It's simple – fundraising fuels medical research which is the key to lifting pancreatic cancer survival rates.
Each and every fundraising effort across our nation helps us achieve our mission of doubling survival rates for sufferers of pancreatic cancer.
There are so many ways you can easily raise funds for pancreatic cancer research, the opportunities are endless, but we have some ideas: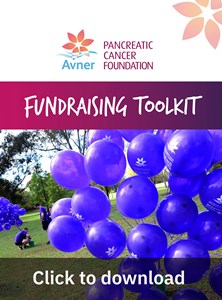 Healthy lifestyle challenge – Join a run, swim or cycle challenge, or make a positive lifestyle change for 30 days.
Create a tribute or in-memory page for a loved one – this is easy on GoFundraise
Host a morning tea on World Pancreatic Cancer Day on 20 November
Hold a "Bake-a-thon" at work and ask colleagues if they can contribute
Organise a #PlayinPurple Golf day at your local club
Host a pancreatic cancer BBQ fundraiser for friends or family
Corporate team building – Educate your workmates pancreatic cancer while doing something fun
Book or garage sale – clear out your unwanted items and donate the proceeds to pancreatic cancer research. Everyone wins!
Contact us at info@pankind.org.au for more information, fundraising ideas and to obtain a 'Community Fundraising Agreement' form.