Opera House Being Lit Up for World Pancreatic Cancer Day
Thursday, July 6, 2017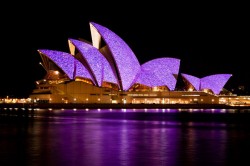 Pancreatic Cancer is a horrific disease that results in more than 90% of sufferers not reaching the 5-year anniversary of diagnosis.
For World Pancreatic Cancer Day this year the Pancreatic Cancer Alliance of which we are a proud member, are turning the Sydney Opera House Purple to raise awareness of this insidious disease!
The beautiful sails of the Opera house will light up in purple on the 15th of November, the eve of World Pancreatic Cancer Day. World Pancreatic Cancer Day is a global initiative to bring awareness to Pancreatic Cancer.
The Pancreatic Alliance members are Avner's Foundation, Cancer Australia, Garvan Institute of Medical Research, GI Cancer Institute, Pancare Foundation, Purple Our World, Karen Livinstone and Tracey Spicer.
We are all thrilled to be shining such an iconic light on Pancreatic Cancer!