2022 Larapinta Trek raises $68k for pancreatic cancer research
Tuesday, August 16, 2022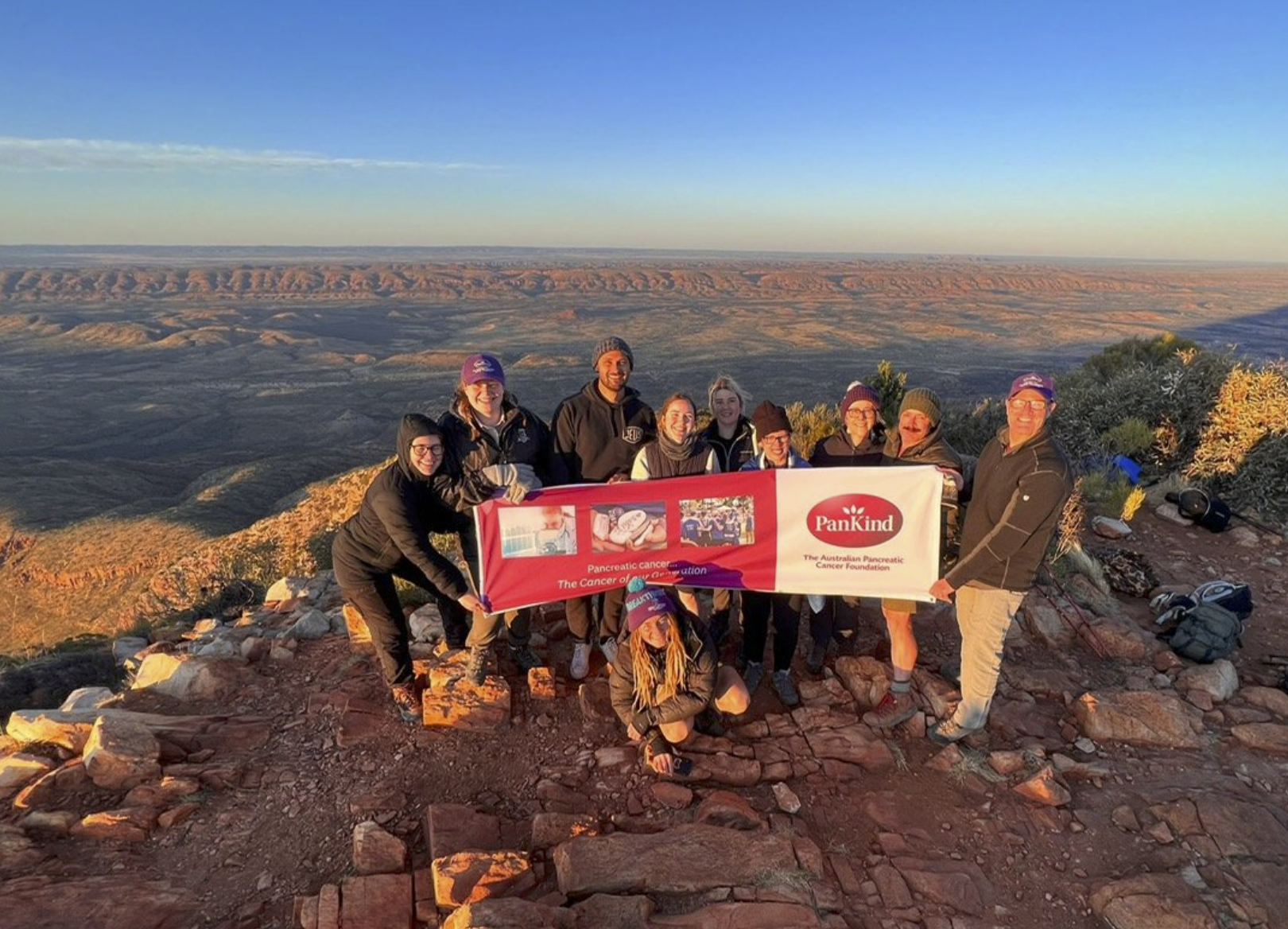 Last week a brave set of explorers finished off a one of a kind adventure whilst raising important funds for pancreatic cancer research. From the Old Alice Springs Telegraph Station to the peak of Mount Sonder, our PanKind Trek for Research 2022 participants made their way through the treacherous Australian outback on what is considered one of the world's most spectacular walking tracks- The Larapinta Trail.
Over 5 days the group travelled 60km along the backbone of the West MacDonnell Ranges following Aboriginal Dreaming tracks, and explored everything the beautiful Red Centre has to offer including sacred sites of the Arrernte people, beautiful mountains, valleys, rivers and the dramatic desert landscapes central Australia is so well known for.
At night, they camped under the stars where they fell asleep to the sounds of native wildlife before powering on to their next destination!
The group were thrilled to be participating in this important trek and achieved some amazing results, including raising $68,000 for pancreatic cancer research!
Trekker Celine said the trip was truly a life-changing experience.

"I felt such pride taking part in something that would help others that were in the same situation as my dad, I knew he would be proud of me for stepping outside my comfort zone. It was so meaningful to connect with others who had also lost loved ones to pancreatic cancer and could relate to my own experience. I absolutely loved every aspect of the trip, the group, the tour guides, the camping facilities, the itinerary, the landscape and environment we were in, the support I felt from the group and from PanKind throughout the fundraising process and in preparing for the trek itself. I'm so glad I reached out and tried something completely new to me, and feel all the more motivated to continue spreading awareness for pancreatic cancer and the enormous efforts of PanKind" she said.

A special thanks to Inspired Adventures for helping us organise this special trip, as well as our brave list of trekkers- you know who you are and we couldn't be prouder of you all and your efforts! 

Are you interested in completing your own adventure, or perhaps a 'Trek For Research'?! There are only a few spots left on our trip to Tasmania to take on the infamous Cradle Mountain Walk! Check out the link here.