Townsville… you've done it again!
Townsville you've done it again! Our 4th annual walk at the Strand was bathed in sunshine as the people of Townsville and the regional community came together to show their support and raised over $31,000 for Pancreatic Cancer research.
Last year's raffle was such a success in the lead up to the walk that our Townsville coordinators, Michael and Kristen, with the help of Anthony Ponti, set up a 2018 raffle to reach out to the wider community. First prize was an amazing 30 minute flight courtesy of Meridian Helicopters (piloted by Michael's brother, Geoff) while the runner up received two mountain bikes kindly donated by the Sneddon family. The raffle was drawn on the day and both lucky winners have been notified.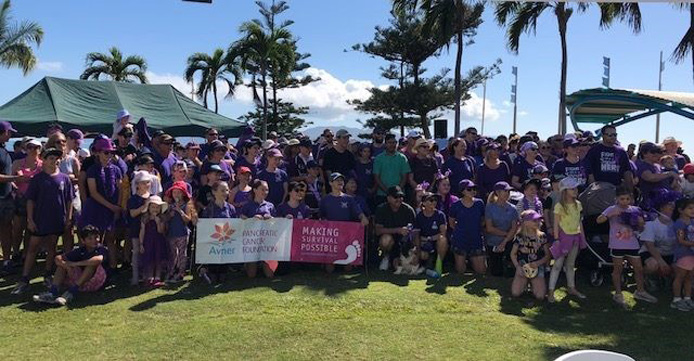 To keep our youngest walkers entertained the team organised a range of games and activities to run prior to the walk including face painting, a purple hairspray booth and merchandise plus purple ribbons available. We were also incredibly lucky to have some very special wristbands on sale made especially for the walk by Amelia (10), Abigail (8) and Lillian (6) with their own special signage "15 minutes of love in each wristband".
Once again, the Townsville Ross Valley Lions Club manned the BBQ for us and made sure everyone was well fed and sold our Deep Spring drinks.
Our seasoned MC, Jess, reprised her role again this year and did an amazing job of organizing the day. A very special thank you goes to Paul Markham for sharing his story of survival and hope for the future.
We also want to thank Tony Ponti for speaking and for his continued support of the Foundation and the Townsville walk. Tony lost his wife, Delia, to Pancreatic Cancer and his dedication and fundraising efforts over the years has been an inspiration to us all. A sincere thank you to Tony and his family.
We are very grateful to Gabriel Sneddon for sharing her story of loss in the Townsville Bulletin to help raise awareness for the walk. Gabriel walked with her daughter, grandchildren and her sons who drove down from Cairns again this year just to take part in the walk.
Finally thank you to everyone who bought raffle tickets, attended the walk, fundraised and dressed up in purple. We think that Gabriel summed up perfectly what our walks mean to so many people when she said;

"It makes you very happy, really, to think when you're out there walking, that so many people are in the same position and you're not the only one there that's grieving"
We couldn't raise as much as we do from our walks without the ongoing support of our generous corporate sponsors; Woolworths, Coca-Cola Amatil, Wellcom, Red Jelly, muk Haircare Global and Beak and Sons - thank you!
Take a look at the photos from the day and be sure to tag any friends!
We look forward to seeing you and many new faces in 2019!